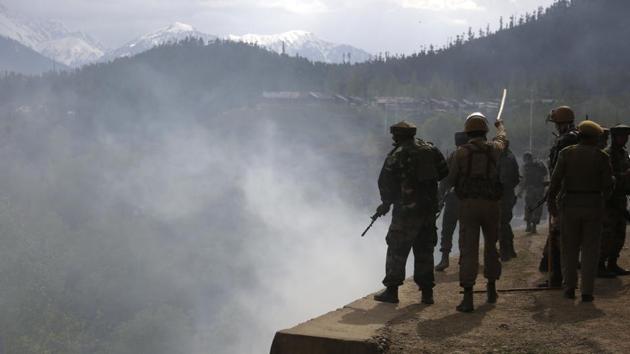 While you were away: Top stories to bring you up to date
From Pakistan's ambush inside Indian territory to India informing visiting Turkish President Recep Tayyip Erdogan that the Kashmir issue is a bilateral one, and US President Donald Trump walking out of an interview after he was asked about the wiretapping accusations he made against his predecessor Barack Obama, here's a list of top ten stories to bring you up to date.
UPDATED ON MAY 02, 2017 07:42 AM IST
Here's a list of top 10 stories to bring you up to date.
1 - 'A pre-planned operation': How Pakistan army carried out an attack 250 metres inside Indian territory
An Indian Army patrol team was taken by surprise by a group of Pakistani special forces who had set up an ambush more than 250 metres deep inside Indian territory early on Monday morning and beheaded two security personnel. Pakistan's Border Action Team (BAT) set up the ambush and waited for a long time for the patrol team, while Pakistani troops attacked two forward posts with rockets and mortar bombs along the Line of Control (LoC) in Poonch district of Jammu and Kashmir. "It was a pre-planned operation by Pakistan army. They had pushed in the Border Action Team over 250 metres deep inside Indian territory and set up the ambush over a long period to carry out the attack," a senior officer said.
Read the story here.
2 - 5 cops, 2 guards killed in Kashmir's Kulgam as Hizbul militants target cash van
Militants killed five policemen and two bank guards in an attack on a cash van in Phambai area of Kulgam in South Kashmir on Monday while students' protests raged across the valley and two soldiers lost their lives on the Line of Control in the Krishna Ghati sector. The cash van was returning after dispensing cash to local bank branches when it was attacked. Bank officials denied reports that the militants looted Rs 50 lakh from the van. The five Jammu and Kashmir policemen and the two guards killed in the attack were locals.
Read the story here.
3 - Pakistan kills, mutilates two Indian soldiers, army calls incident 'despicable'
Pakistani forces killed two Indian soldiers and mutilated their bodies after a targeted attack on frontier posts in Jammu and Kashmir on Monday morning — an act the army described as despicable and promised appropriate response. The slain soldiers were naib subedar Paramjit Singh, a junior commissioned officer (JCO) with the army's 22 Sikh Regiment, and head constable Prem Sagar of the BSF's 200 Battalion. The government strongly condemns this barbaric act and the country has full confidence and faith in the armed forces, which will react appropriately, defence minister Arun Jaitley said. "This is a reprehensible and an inhuman act. Such attacks don't happen even during a war, let alone peace … The sacrifice of these soldiers will not go in vain."
Read the story here.
4 - Kashmir a bilateral issue with Pakistan, India tells Turkish President Erdogan
India informed visiting Turkish President Recep Tayyip Erdogan on Monday that a solution to the Kashmir issue can only be found through bilateral talks with Pakistan, tacitly rejecting his suggestion for multilateral dialogue on the matter. The Kashmir issue has a "prominent dimension of cross-border terrorism" that needs to be stopped by "those who are perpetuating it", external affairs ministry spokesperson Gopal Baglay said without naming Pakistan. Erdogan and Prime Minister Narendra Modi had a "detailed discussion" on terrorism and the two leaders agreed there could be no justification for terrorism wherever it is committed. They also urged all countries to disrupt terrorism networks and financing and "stop cross-border movements of terrorists", Baglay said.
Read the story here.
5 - Our government will be government of all and not one person, says Rahul Gandhi in Gujarat
Congress vice-president Rahul Gandhi launched the party's election campaign in Gujarat on Monday with a promise to give a government that would listen to `Mann Ki Baat' of people while he criticised Prime Minister Narendra Modi for catering only to the rich. Addressing a rally in Narmada district, Gandhi raised several issues including the Patidar agitation, land acquisition bills and demonetisation. "On November 8 Modiji told you that I am your PM and listen to my Mann ki Baat. And from today Rs 500 and Rs 1000 notes in your pockets are not valid," said Gandhi adding, "The Congress's government in Gujarat will listen to your Mann Ki Baat. It will be the government of all and not one person. We will fight the next elections with all our might and defeat Modiji and the BJP in Gujarat''.
Read the story here.
6 - Manish Sisodia says Kejriwal is 'hurt' by the actions of Kumar Vishwas
A day after chief minister Arvind Kejriwal denied a rift within the Aam Aadmi Party and called Kumar Vishwas his "younger brother", senior party leader Manish Sisodia said the party leadership, including its convener Kejriwal, is "hurt" by the actions of Vishwas. Sisodia also announced that AAP's Okhla MLA Amanatullah Khan had resigned as a member of the party's political affairs committee (PAC). "Objections were raised over Amanatullah's statement against Kumar Vishwas. He himself put down the papers and his resignation has been accepted," he said. Meanwhile, none of AAP's leaders from Punjab will attend the PAC meeting scheduled for Tuesday in New Delhi.
Read the stories here and here.
7 - Trump walks out of interview after being questioned about Obama wiretap claims
US President Donald Trump walked out of an interview at the Oval Office after he was asked about the wiretapping accusations he made against his predecessor Barack Obama. When CBS' John Dickerson pressed for details about claims that Obama tapped his phones during the presidential campaign, Trump responded, "You can figure that out yourself." When Dickerson repeatedly asked the question so that it isn't "fake news", Trump merely said that everyone was entitled to their opinions. However, when Dickerson asked him about the accusation again, Trump walked off, saying "Okay, that's enough. Thank you."
Read the story here.
8 - Trump would be 'honoured' to meet North Korea's Kim Jong-Un, if conditions right
US President Donald Trump on Monday said he would not rule out meeting North Korean leader Kim Jong-Un, under the right conditions, as Pyongyang threatens to carry out a sixth nuclear test. Tensions on the Korean peninsula have been running high for weeks, with signs the North might be preparing a long-range missile launch or a new nuclear test -- prompting tough talk from Washington, which has refused to rule out a military strike in response. But the Trump administration is also spearheading a renewed diplomatic push to bring Pyongyang back to the negotiating table. Trump has also said he is ready to act alone in the stand-off, however -- and signalled that this could involve face-to-face talks with Kim, who has yet to meet a foreign leader since taking power.
Read the story here.
9 - New Hamas document accepts Palestinian state in territories occupied by Israel with 1967 borders
The Palestinian Islamist movement Hamas unveiled Monday a new policy document easing its stance on Israel after having long called for its destruction, as it seeks to improve its international standing. The document notably accepts the idea of a Palestinian state in territories occupied by Israel in the Six-Day War of 1967. It also says its struggle is not against Jews because of their religion but against Israel as an occupier. However, Hamas officials said the document in no way amounts to recognition of Israel as demanded by the international community.
Read the story here.
10 - Ben Stokes' maiden IPL ton help Rising Pune Supergiant to first win over Gujarat Lions
Ben Stokes slammed a magnificent 103* off 63 balls to help Rising Pune Supergiant to a five-wicket win over Gujarat Lions. This was Steve Smith's first win over Suresh Raina's side and it knocked Royal Challengers Bangalore out of the play-off race.
Read the story here.
Close