5 cops, 2 guards killed in Kashmir's Kulgam as Hizbul militants target cash van
Srinagar |
Toufiq Rashid, Ashiq Hussain and Ravi Krishnan Khajuria
May 28, 2017 10:46 AM IST
The attack came a day after a 65-year-old man was killed and five others, including four policemen, were wounded in a grenade attack by suspected militants in the old city of Srinagar.
Militants killed five policemen and two bank guards in an attack on a cash van in Phambai area of Kulgam in South Kashmir on Monday while students' protests raged across the valley and two soldiers lost their lives on the Line of Control in the Krishna Ghati sector.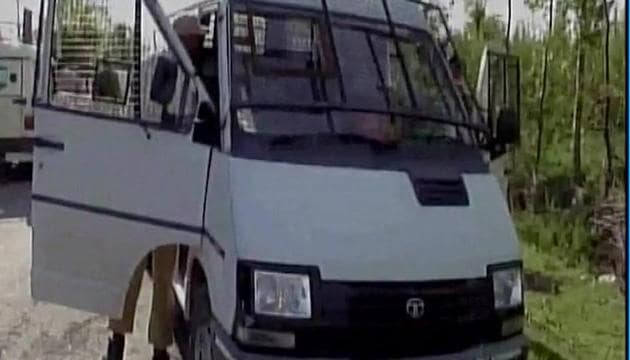 The cash van was returning after dispensing cash to local bank branches when it was attacked. Bank officials denied reports that the militants looted Rs 50 lakh from the van. The five Jammu and Kashmir policemen and the two guards killed in the attack were locals.
The policemen were identified as assistant sub inspector Mohd. Yousaf, Farooq Ahmad, Ishfaq Ahmad, Mohammad Qasim and Muzaffar Ahmad.
The two security guards killed were Javeed Reshi and Muzaffar Ahmed Laway.
Militant outfit Hizbul Mujhadeen claimed responsibility for the attack. However, a spokesperson told local news agency CNS that the victims were shot dead by securitymen.
"We didn't attack the vehicle with intent to loot the cash. We have enough cash. We condemn the killing of the bank employees and want to clarify that they were shot dead by the securitymen," Hizbul spokesperson Burhanuddin said.
Earlier in the day, two Indian soldiers were killed by rockets and mortars fired by Pakistan along the southwest of the Line of Control in the Krishna Ghati sector in Jammu and Kashmir.
In the southern district of Pulwama, scores of school and college students hit streets on Monday against the arrest of some of their colleagues during earlier protests.
Police in Pulwama said students gathered outside the police station in the town and raised slogans.
Locals said that the police used tear gas shells to disperse the protesters who then resorted to stone pelting.
"Students came out of a higher secondary and then they went to Degree College Pulwama and later they started throwing stones at the police station but no one was injured," said the district's superintendent of police, Rayees Mohammad Bhat.
Following the clashes, people closed their businesses and shops in the town.
In Srinagar, a few dozen students of Kothi Bagh Girls Higher Secondary and Women's College also held separate protests against the state and its forces.
Students' protests have become a new challenge for the administration in Kashmir where the security situation has gone downhill after the killing of Hizbul Mujahideen militant Burhan Wani in July 2016 and the subsequent crackdown on protesters.