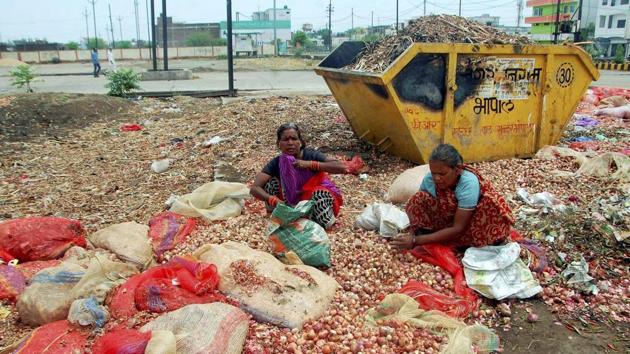 Apathy, heavy losses: Why farmers in Madhya Pradesh are on warpath against Shivraj Singh Chouhan govt
This is the second year of a bumper onion crop with no buyers, forcing aggrieved farmers to dump their produce on the roads after prices plummeted.
Hindustan Times, Bhopal | By Ranjan and Neeraj Santoshi
UPDATED ON JUL 07, 2017 12:08 AM IST
About one-tenth of the farmer suicides in the past 16 years in Madhya Pradesh took place in a year, between February 2016 and 2017, telling a distressing story about farm despair in the state where agriculture growth had clocked 20% since 2014-15.
Chief minister Shivraj Singh Chouhan has tom-tommed about farm sector success claiming five national Krishi Karman awards, ignoring farmers crying hoarse over poor remunerative price for their crop and increasing stranglehold of commission agents.
The situation is bad in the Malwa-Nimad region, which comprises 15 districts, including Mandsaur, where five farmers reportedly died in police firing on Tuesday. It has been the second year of a bumper onion crop with no buyers, forcing the government to announce a belated decision to procure the onions for Rs 8 per kilogram.
Farmers are angry because the government neither made arrangements to procure the crop on time nor intervened to ensure a reasonable price. They threw onions on roads given the prices of the vegetables plummeted to as low as Re 1 to Rs 2 per kg in certain markets, especially in the Malwa region, last year. This year too, farmers had to sell their winter crop — tomato and potato — at throwaway prices, bearing heavy loss.
The distress is visible in the suicide numbers. From February 2016 to mid-February 2017, 1,982 farmers and farm labourers reportedly committed suicide, which was one-fifth of the total suicides in the state, where 21,000 farmers have taken their lives in 16 years.
The National Crime Records Bureau attributed the reasons to crop failure, failure to sell produce, inability to repay loans, and other non-agriculture factors such as poverty and property disputes.
"The farmers should have been affluent if 20% growth figure given by the government is to be believed," said former state agriculture director GS Kaushal. But, he said, the reality was that input costs were rising and government failed to ensure remunerative price.
Around 72% of the state's agriculture is rain-fed and two consecutive droughts have broken the economic back-bone of farmers, who had taken high interest loans from local money lenders. Experts say crop failure rate in the rain-fed regions is high.
The state government's zero percent interest loan benefitted some farmers. But farmers in general were not able to claim benefits again as they were not able to repay the short-term loan. This, local government officials say, pushed farmers to local money-lenders, a reason for farmers to demand loan waiver.
The government's bid to improve horticulture and food processing is mainly confined to paper, leading to farmers not getting benefits, much like farm owners in Punjab and Haryana.
Close