Why Nazrul Islam, one of India's earliest communist lights, is newest RSS icon
Updated on May 27, 2017 03:47 PM IST
BJP's ideological fount is showcasing Islam as an ideal Indian Muslim, "a true Hindu and nationalist representing Bharatiyatva (Indian-ness)".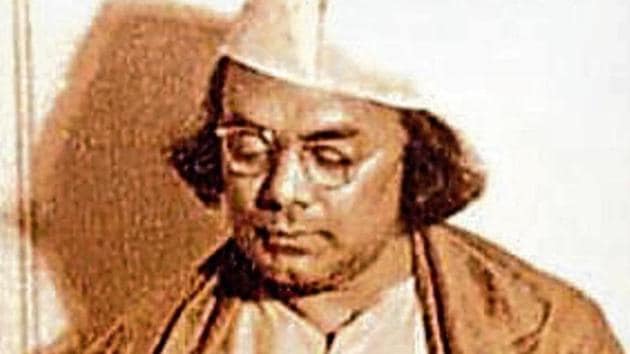 Kazi Nazrul Islam, the latest icon that the Rashtriya Swayamsevak Sangh (RSS) is highlighting as a model of an ideal Indian Muslim, was ironically one of the earliest faces of the communist movement in the country. The communist ideology is seen as the Sangh's biggest opponent.
Islam (1889-1976) translated the Internationale, the communist anthem worldwide. He preached communism through his poems and the some of the titles, Samyabadi (Communist), Sarbahara (Proletariat) and Bidrohi (Rebel), left no room for doubt.
In 1926, he became a founder-member of the Workers and Peasants Party of Bengal, one of the earliest Left outfits in India. During the early 1920s he shared a room in Kolkata's Taltola Lane with Muzaffar Ahmed (1889-1973), one of the founders of the Communist Party of India.
Ahmed was also the first to whom Islam recited Bidrohi, his most famous poem, which he wrote during this time. They were joint editors of a daily, Nabajug (New Age), and worked together for two other publications, Langol (Plough) and Dhumketu (Comet), edited by the poet.
But RSS, the Bharatiya Janata Party's (BJP's) ideological fount, insists there is more to Islam. "Nazrul Islam had definite leanings towards communist ideology but that does not negate his nationalism," Jisnu Basu, RSS's south Bengal general secretary, told HT on Friday. "He represents the true nationalist, the real Hindu, as Hinduism is not merely a religion but actually a way of life," Basu added.
Between May and October, swayamsevaks (volunteers) at the RSS daily sakhas (daily meetings) will sing three songs Islam composed. These are: Hey Parthasarathi, Bajao Panchajanya Shankha (devoted to Lord Krishna), Tomar Hate Rakhi Khani Bandho Amar Dokhin Haate (celebrating Raksha Bandhan) and O Maa Donuj-Dalani Mahashakti Namoh (praising Devi Durga).
RSS will also get select works of Islam translated into Hindi to circulate them across the country.
Read: RSS to eulogise Bangladesh's national poet Kazi Nazrul Islam as 'good Hindu'
A staunch atheist, Islam turned spiritual during his later days. He composed several Islamic songs, and bhajans, love songs and devotional songs addressed to Hindu gods and goddesses. Fiery language marked his compositions.
Due to his nationalist activities, the British imprisoned him several times. After Independence, he focused on composing music.
Both CPI(M) and Trinamool Congress have mocked the RSS move to highlight Islam, who is Bangladesh's national poet.
"The Sangh Parivar's main icons, Shyama Prasad Mookerjee and Deen Dayal Upadhyaya, have no appeal in Bengal, therefore, they are trying to look for icons with whom Bengalis can connect," said CPI(M) Politburo member and Lok Sabha MP Md Salim. "I think their enthusiasm with Islam is born out of incomplete reading of his works. Once they read him in totality, they will drop him like a hot potato."
Trinamool Congress Lok Sabha MP Sougata Roy said, "It's heartening to hear they are planning to highlight Nazrul Islam. They should. The more Nazrul Islam is read, the more people will unite to defeat RSS's divisive politics."
For decades, the Left has celebrated Islam's birthday in neighbourhoods across Bengal. Trinamool founder and chief minister Mamata Banerjee, too, is fond of quoting him to counter the Sangh.
RSS, however, has a different view. According to Biplab Roy, spokesperson for RSS' south Bengal chapter, the Left and the Trinamool only highlight those parts of Islam's writings which "make Hindus feel inferior".
"They have been highlighting only a part of Islam's life, whereas we'll highlight him as a whole – a true Hindu and nationalist representing Bharatiyatva (Indian-ness). He represents an ideal Indian Muslim," Roy said.
Born at Churulia village in Bengal's Burdwan district, Islam served as a muezzin as a youngster. During World War I, he served in the British army abroad. However, in the early 1920s, when he focused on journalism, he got deeply involved in anti-British activities and turned towards the Left.
By his own admission, Islam wrote to express the dominant feelings of his time and did not seek immortality.
Read: How RSS plans to take over West Bengal: Social media campaign to new members