Will action against Zakir Naik's foundation mirror the crackdown on SIMI?
Is the central government mulling action against Dr Zakir Naik and his Islamic Research Foundation (IRF) on the lines of what the National Democratic Alliance (NDA) government did with the Students Islamic Movement of India (SIMI) in 2001?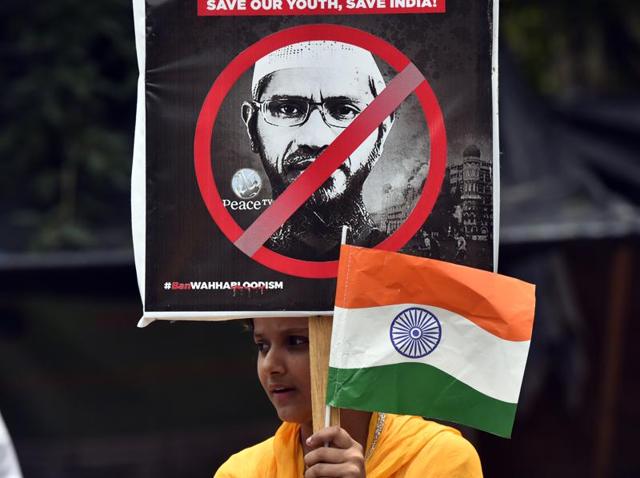 Updated on Aug 11, 2016 09:14 AM IST
Is the central government considering action against preacher Zakir Naik and his Islamic Research Foundation (IRF) on the lines of what the National Democratic Alliance (NDA) government did with the Students Islamic Movement of India (SIMI) in 2001?
For the last six months, the Centre has been monitoring Naik and his activities in India and abroad, and had even asked agencies for a detailed report on his property holdings, finances and foreign funding, according to sources close to the development.
In fact, an agency in Maharashtra had prepared a detailed dossier on Naik and submitted it to the Centre earlier this year, the sources said.
This is also how the whole process of banning SIMI unfolded.
"It was a slow build-up before SIMI was banned. SIMI's cadres were arrested from various states on allegations of being involved in anti-national activities, and in certain cases some of their cadres were found involved in blasts. The case against SIMI was built up quietly before a ban was imposed," said a senior IPS officer, who has been tracking terrorism for over two decades.
The government could adopt a similar stand against the IRF after the Mumbai police's latest report, given to the Maharashtra government earlier this week, and once the Kerala police filed its report, said the officer.
Read | Zakir Naik: From a suave doctor to a polarising preacher on security radar
The Centre had first sought a report on Naik after his named cropped up as someone who appeared to have a big influence on young minds when the National Investigation Agency (NIA) and the Maharashtra Anti-Terrorism Squad (ATS) were probing Islamic State (IS) modules in Mumbai and its outskirts in February this year.
Ayaz Sultan, leader of the IS module in Malwani, who reportedly sneaked out of the country in October last year to reach Syria, too, was influenced by Naik's speeches.
But the trigger for a full-fledged investigation against Naik under media glare were the reports that two youth who were part of the terror team that attacked a posh Dhaka café on July 2 killing 20 people had been influenced by Naik's speeches. This has since been denied by the Bangladeshi publication that carried the report.
But even earlier, there were claims by security agencies that Naik's teachings had influenced the likes of Najibullah Zazi, the Afghan-American arrested in 2009 in the US for allegedly planning suicide attacks on the New York subway; Kafeel Ahmed, the man from Bangalore who failed to execute a suicide attack at Glasgow airport in 2007; and Raheel Shaikh, the accused in the 2006 train blasts in Mumbai.
Naik's speeches aired through his Peace TV had considerable viewership. Most of his speeches are aired on Peace TV English, which he started in 2006. Naik went on to launch Peace TV Urdu in 2009, and Peace TV Bangla in April 2011. He is now believed to have plans to launch his channel in 10 major languages across the world.
But Naik was banned in the United Kingdom and Canada in 2010 and from addressing meetings in Allahabad, Kanpur, and Lucknow in 2008.
Read | Zakir Naik justifies jihad, Mumbai cops say in their report
However, say police officials, there is actually very little legal ground to impose restrictions on him with the evidence at hand. One way to do so would be to prove that the IRF had links to terrorist activities, which is what happened with SIMI in 2001. A first step in this direction could be the First Information Report (FIR) filed at the Palarivattom police station in Kochi, Kerala, on the complaint of a man who said his son had been misguided into going to Syria to join the IS by a person, Arshi Qureshi, who was connected to the IRF. He has since been arrested and the Kerala police is documenting various FIRs filed at Thiruvananthapuram, Kasaragod and some other places that may point fingers at the IRF.
Close Story