Zakir Naik: From a suave doctor to a polarising preacher on security radar
Jul 07, 2016 08:58 AM IST
On the radar of security agencies following reports that the terrorists behind the carnage in Dhaka were inspired by his sermons, he is now on a visit to Mecca
He preaches on Peace TV, but causes unrest. He wears a suit in the western style teamed with a skull cap. He's a suave doctor who speaks fluent English, but his speeches stir up the young and the impressionable.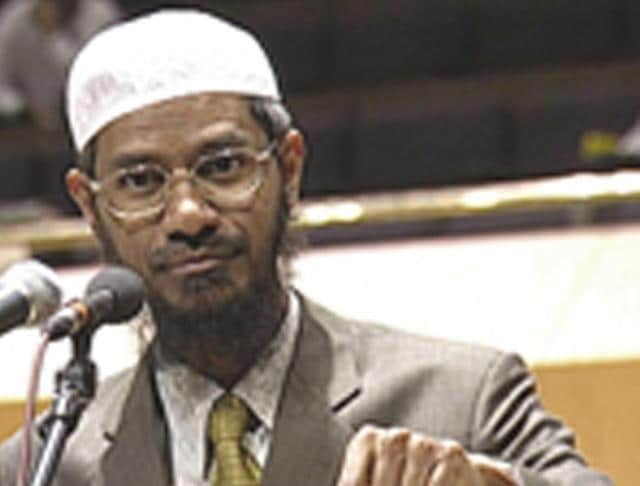 Zakir Naik, 51, has long been a polarising figure in Mumbai. On the radar of security agencies following reports that the terrorists behind the carnage in Dhaka were inspired by his sermons, he is now on a visit to Mecca. His supporters say he will be back in Mumbai on July 11 and will address a press conference the next day.
Naik can no more hold his public sermons in Mumbai that used to draw large crowds. Unnerved by what used to be said at these functions, the Mumbai cops have denied him permission since 2012. Britain has banned his entry since 2010 over his refusal to call Osama bin Laden a terrorist.
He's known as an Islamic preacher, but Naik has never been popular with the Sunni and Shia clergy in Mumbai. In fact, he has more detractors within the Muslim community that outside it.
In 2009, several Sunni Maulvis in Mumbai ganged up against Naik for some of his comments and around the same time the Shia community made a representation against Naik to the then joint commissioner of police, KL Prasad. Prasad played peacemaker and resolved the issue by getting Naik to apologise.
Read: Govt may act against Mumbai-based Islamic preacher followed by Dhaka attackers
"Dr. Zakir Naik can be explained in one sentence --- a preacher who believes in the oneness of God, sermonising in western attire and skull cap," said a senior Muslim cleric from Dongri who has seen the physician morphing into a controversial preacher over the years. "He clearly says other religions have no existence at all. This is not acceptable," said the cleric who asked not to be named.
Naik's detractors say he has cleverly used controversy and his event management skills to grab attention and generate funds. "Go to any mosque on Friday, you will find more people listening to the post-prayer speeches than the turnout at the much publicized events of Naik," said another senior cleric. "The only difference is he has the skills to arrange funds to go on television channels and for his globe-trotting glitzy public shows," said the cleric, who too spoke on condition of anonymity
His supporters say the Madrasa-educated and Urdu-speaking mullahs are simply jealous of Naik's ability to attract the youth through his proficiency in English and his interpretation of the teachings of the Quran in a modern context.
"He has a global appeal, especially among the English educated new generation who don't want to associate themselves with the paan-chewing sherwani-clad Mullahs. In fact, one would find most of his detractors in the Barelvi sect of Muslims who are opposed to his puritan version of Islam," said editor of an Urdu daily while requesting anonymity.
"He was cosmopolitan in his outlook from the beginning," said a neighbor of the Naiks' in Jasmine apartments at Mazgaon where the family has been living for the last 60-70 years. Naik's father, Abdul Karim Naik, a renowned psychiatrist, branched out from his family business of exporting seafood from his native village in Raigad district and set up his clinic at Char Nall in Dongri . Following in his footsteps, Zakir Naik (and his brother Mohamed) also did his MBBS degree from BYL Nair college when he came across Ahmed Deedat, a South African Muslim missionary of Indian origin in 1987.
Read: Not just Dhaka attackers, Dr Zakir Naik also inspired Malwani man
This was the turning point. "Naik was greatly impressed by Deedat's preaching and started fashioning himself on his footsteps," said the neighbor. Naik never practiced medicine and became a serious reader of religion, before he started running the Islamic Research Foundation (IRF) out of a 500 sqft room at Dongri in 1991. "On week days, the room was used as a madrasa while on Sundays, Naik would host his lectures at night. His audience consisted mostly of local youths from all communities who would listen to the English-speaking preacher just out of curiosity," said an old follower of Naik.
Later, he opened the Islamic International School (IIS) where his two daughters and son are enrolled. His wife, Farhat, takes care of the women's wing of IRF.
As his following grew, the sermons were arranged in larger halls across the city and the nearby townships where he started mesmerizing the impressionable young with his ability to recall verses and couplets from various holy scriptures.
Officers in the Mumbai police who have kept tabs on Naik over the years say he started courting controversy as his stature grew.
"He became more and more brash and rabid, even to the point of insulting beliefs within and outside Islam in a carefully crafted strategy. The more the controversy, the more was the TRP and flow of funds from those who appreciated such thoughts," said an official who had served in the Mumbai police Special Branch.
Opinion is divided on what to do about him now. One view is that he is a fringe figure best ignored. But is that really an option?
Read: Muslims split over Zakir ban
Probe agencies take footage of his speeches
The National Investigating Agency (NIA) and the state Anti Terrorism Squad (ATS) on Wednesday took footage of Zakir Naik's speeches from the special branch archives for analysis as the security establishment mulled action against him.
A senior Mumbai police official told HT that an FIR had been registered against Naik in Mumbai, as well as half a dozen police stations across the state, in 2013 following a post allegedly uploaded by him on the social media that ridiculed Hindu Gods. "Investigation on that complaint is still on," the senior official said.
The police have stepped up surveillance outside the office of Islamic Research Foundation (IRF) at Dongri.
Meanwhile, sources claimed that Naik had visited Bangladesh a couple of months ago and spoken at an equal number of venues during his brief tour. However, there was no confirmation about Naik's visit to that country by the police.
Demand to ban Naik
Shiv Sena Member of Parliament Arvind Sawant has demanded a ban on Islamic preacher Zakir Naik, who is in Mecca, returning to the country.
In a letter to Union Home Minister Rajnath Singh on Wednesday, Sawant said "This man's speeches are creating terrorists. We should not just ban his entry but also ensure that the channels that telecast his speeches are banned."
Sawant also demanded a probe into the sources of funding behind Naik's Islamic Research Fundation (IRF).
The Hindu Janjagruti Samiti, a right-wing group, also demanded Naik's arrest and demanded a ban on 'Peace TV', a channel he runs and telecasts his speeches on.