Will clean Vidhan Soudha with cow urine, if voted to power: Karnataka Congress
Published on Jan 25, 2023 12:52 AM IST
The Congress leader's attack on the BJP government came a day after the ruling party filed a complaint with the Lokayukta against Leader of Opposition Siddaramaiah and Congress, alleging irregularities in 'TenderSURE' projects during their tenure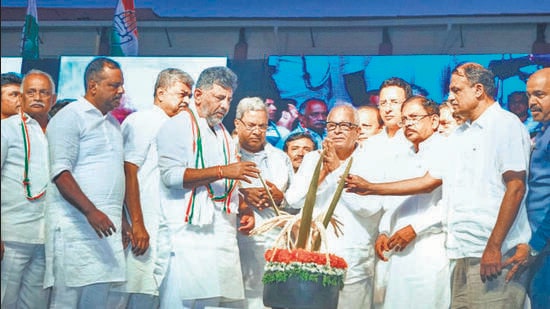 Bengaluru: Karnataka Pradesh Congress Committee (KPCC) president DK Shivakumar said on Tuesday that his party will purify the Vidhana Soudha with Dettol and cow urine when it comes to power, alleging that it was polluted by corruption during the BJP rule.
He said the Bharatiya Janata Party has a few days left in the office with assembly polls around and they should pack up their bags.
"It's about 40-45 days left for your government, pack your tents and do whatever collection that is left and go. We will come with dettol to clean Vidhana Soudha. I have even got some Ganjala (cow urine) for purification…people are wanting to get rid of this evil government," Shivakumar said. "Bommai, better, tell all you ministers to pack up soon."
The Congress leader's attack on the BJP government came a day after the ruling party filed a complaint with the Lokayukta against Leader of Opposition Siddaramaiah and Congress, alleging irregularities in 'TenderSURE' projects during their tenure.
State health minister K Sudhakar, quoting a CAG report, had alleged that there were financial irregularities to the tune of ₹35,000 crore under the Siddaramaiah-led Congress government.
Hitting back at Sudhakar's allegations, Shivakumar asked as to what the BJP was doing for the last three and a half years. "They were in power and should have ordered an inquiry and got it investigated." BJP has a "brand" of 40 per cent commission, and to cover it up they were trying to make baseless allegations against the Congress, he said.
Siddaramaiah, hitting back at Bommai and BJP for levelling corruption charges against the previous Congress government headed by him, demanded a probe by a Supreme Court judge-headed commission about alleged scams and corruption charges from 2013 to till now.
"The allegations about 40% commission, PSI recruitment and Covid scam -- let all those allegations that we have made be combined with the allegations that they (BJP) are making against us now, and together they be handed over to an inquiry commission headed by a Supreme Court Judge. If they have guts, let them do it," he challenged.
Targeting minister Sudhakar, Siddaramaiah said, "He was a Congress MLA during our government. Why was he quit?" The BJP is panicking with fear of defeat in the election and was making baseless allegations. Anti-Corruption Bureau (ACB) was repealed by the High Court, not by the BJP government. "We did not shut the Lokayukta as alleged by BJP," he said.
Slamming the Congress, Chief minister Basavaraj Bommai said it was "laughable" that the party was talking about corruption. "Whose corruption do they want to stop? Congress is the gangotri (source) of corruption. Congress is the reason for corruption in BBMP. It's laughable that Congress is talking about corruption," he said.
Bommai claimed that tender premiums for development works in Bengaluru were as high as 40-60% when Congress was in power. "Such high premiums...has it happened anywhere in the country? Corruption happened so blatantly," he said.
"Congress had closed down the Lokayukta and started the Anti-Corruption Bureau, which filed 'B' reports on complaints that were filed. Even when we provided documents, cases were closed. All such cases are being referred back to the Lokayukta now," he said, adding that corruption was a part of the Congress government.
(With PTI inputs)