Will continue struggle for restoration of J-K's autonomy: National Conference
Farooq Abdullah, who was reappointed National Conference president, said people of "Kashmir joined India out of love but everything was snatched from them".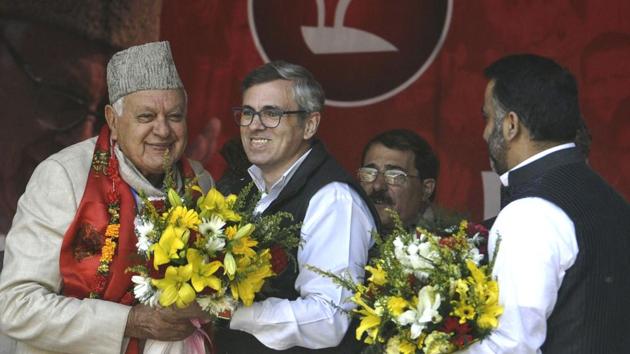 Updated on Oct 29, 2017 08:12 PM IST
The National Conference (NC) passed a resolution on Sunday for restoration of autonomy granted by the Constitution to Jammu and Kashmir, a move that adds to a hotly debated and emotive subject in a state fighting 30 years of insurgency.
The pledge was taken at a convention of party delegates from the state's all three regions at a packed Sher-e-Kashmir stadium in Srinagar.
"We will continue to strive for the restoration of autonomy and restoration of Article 370 to its original, pristine form, while condemning those divisive voices who are opposed to the sovereign constitutional guarantees extended to the people of the state," the resolution says.
Party president
Farooq Abdullah, who was reappointed party president, said people of "Kashmir joined India out of love but everything was snatched from them".
"Kashmir cannot be won by force or cowed down by gun. Kashmir is a political issue unless it's dealt with politically there will be no peace," he said.
His son and NC working president, Omar Abdullah, asked the Centre to respect and restore conditions on which Jammu and Kashmir acceded to India in October 1947.
"Promises made to the people of Jammu and Kashmir must be fulfilled … We want the present uncertainty, bloodshed and violence to end. We want to live with honour and dignity," said the former chief minister.
"We don't want internal autonomy from Pakistan or Russia or America but from India, where we have already been guaranteed greater autonomy by its Constitution."
According to the instrument of accession, Jammu and Kashmir relegated powers related to defence, foreign affairs, currency and telecommunication to India.
But presidential orders since 1953 eroded several privileges, giving leeway to central laws such as the Armed Forces (Special Powers) Act over those of the state. The armed forces law gives the military extra-judicial powers during counter-insurgency operations.
The Peoples Democratic Party (PDP), which rules the state with the BJP, as well as the NC want restoration of the pre-1953 position.
The debate was reignited after Congress leader P Chidambaram said in poll-bound Gujarat on Saturday that Kashmiris mean greater autonomy when they ask for "azadi", which translates into freedom.
In response, the BJP as well as Prime Minister Narendra Modi accused the former Union home minister of "shamelessly" supporting the state's separatist movement for "azadi".
Referring to the controversy over the Congress leader's remarks, Omar said: "When PM Modi said resolution of Kashmir will not come from bullets and abuses, and when Mr Chidambaram said people who are talking azadi actually want autonomy, all the ministers in the Prime Minister's cabinet pounced on him."
The state's largest opposition party called for a political initiative to solve the Kashmir crisis and abandon the "use of force", saying the "focus on military might will further alienate people".
"When I was chief minister I said on the floor of the House that we have acceded not merged with India. If talking about the Constitution and demanding something within the constitutional framework is anti-national we will not shy from wearing the tag of anti-national with pride," Omar said.
The party requested India and Pakistan to initiate a sustained, sustainable and comprehensive dialogue process to resolve outstanding issues. "The state of Jammu and Kashmir is the worst victim of animosity between the two neighbours," it said.
Omar questioned the Centre's recent appointment of an interlocutor — former Intelligence Bureau chief Dineshwar Sharma — to start peace talks in the state, which has been on the edge since the killing of militant leader Burhan Wani in June last year.
"There have been conflicting statements since the announcement came so much so that even Dineshwar Sharma would be wondering what his brief is, who he has to talk to," Omar said.
He alleged that the state has plunged into distress since the PDP-BJP coalition wrested power two years ago.
"The time has come when the youth we train to become policemen desert the forces and join militants. (Chief minister) Mehbooba Mufti said it was due to my mistakes that a militant like Burhan Wani was born, I want to ask her in the past three years how many Burhan Wani's and Zakir Musas did her government make," he said.
Close Story