Will end 'gundaraj' in Uttar Pradesh if elected to power: Modi
Dec 11, 2016 10:19 PM IST
The BJP will end lawlessness in Uttar Pradesh if elected to power, Prime Minister Narendra Modi said on Sunday, attacking regional rivals Samajwadi Party and Bahujan Samaj Party for being "bothered" by the scrapping of high-value currency.
Prime Minister Narendra Modi promised on Sunday to defeat corruption and nab illegal cash hoarders in three months, accusing opposition parties of trying to crush the "truth" by stalling Parliament over the scrapping of high-value currency.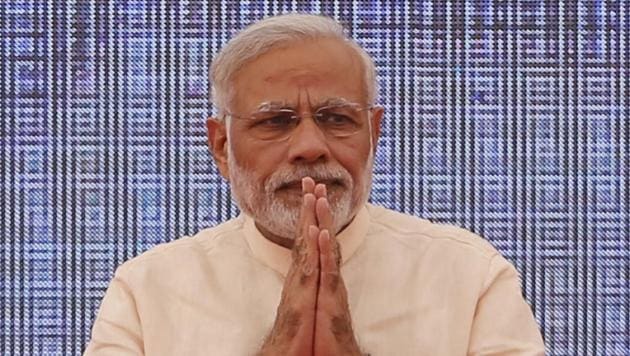 Speaking at a rally in western UP's Bahraich district though a mobile phone, the prime minister said the BJP will end lawlessness in Uttar Pradesh if elected to power and hit out at regional rivals Samajwadi and Bahujan Samaj Party.
"We are ready for debate (on demonetisation), but we are not being allowed to present our viewpoint by those very parties that have been discarded by the electorate," he said.
"The country is facing trouble in walking the path of honesty. I am confident of winning the war against corruption," he said.
He said UP knew how political rivals weren't allowing his government to spell out its stand on the junking of Rs 500 and Rs 1000 notes by disrupting Parliament. Little work has been transacted during the ongoing winter session that has just three days left.
"UP wants to break free of the gundaraj. If UP needs to progress, supporters of gundagardi will have to leave. The BJP will do that," he said.
The PM spoke for 13 minutes through a mobile phone after his helicopter failed to land because of poor visibility.
"They (SP and BSP) are seldom on the same page. But nowadays, they are speaking in one voice. I can't understand why they are bothered by the fight against black money," he said.
Read| PM Modi says ready for demonetisation debate but Oppn holding up Parliament
This was supposed to be the fifth parivartan rally addressed by Modi, who is leading the BJP charge to come back to power in India's most populous state after more than a decade. But the saffron party is locked in a close fight with the SP, BSP and Congress.
Modi focused on his government's demonetisation move in the Indo-Nepal border town known to be a hotbed of counterfeit currency and militancy funding, two things the Centre says will be wiped out by the junking of the high-value notes.
The government's decision has come under fire in recent weeks as long queues outside banks and ATMs continue and experts warn of adverse effects on the economy, including the possible loss of thousands of jobs.
But Modi dismissed Opposition charges that demonetisation hurt the underprivileged, saying his administration was committed to the welfare of the poor
"Unaccounted-for money is being seized daily and unscrupulous bankers are facing action. People hoarding black money will be brought to justice in two to three months."
He also urged people to adopt mobile banking, pointing out how a cellphone had enabled him to address a rally where a powerful helicopter had failed.
Read| Short-term pain of demonetisation will pave way for long-term gains: PM Modi