Will enter Lok Sabha poll arena with mandir, new India: Yogi Adityanath
Feb 03, 2023 03:05 AM IST
The chief minister said he was confident that the event will change the perception of Uttar Pradesh, make it an investment hub, and fulfil Prime Minister Narendra Modi's development goals
The Bharatiya Janata Party (BJP) will enter the 2024 elections arena on the back of the work done by the double-engine government and the rise of a "new India" on the world stage at a time when the Ram Temple, too, will be ready, chief minister Yogi Adityanath said on Thursday, stressing that an upcoming investor summit in Lucknow will script a new growth story for India's most populous state.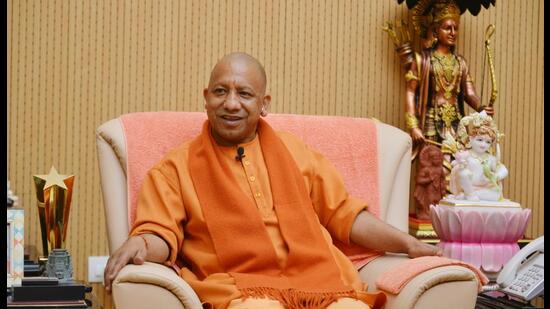 In an interview to HT a week before the three-day Global Investors Summit (GIS) from February 10 to 12, the chief minister said he was confident that the event will change the perception of Uttar Pradesh, make it an investment hub, and fulfil Prime Minister Narendra Modi's development goals.
Also read | Budget passes BJP's political test ahead of 2024 elections
"People will see the works of the double-engine government and a picture of new Bharat will also come before the globe. And, the Ram mandir too will be ready," he said, in response to a question about what the BJP will enter the 2024 arena with. Double-engine is a reference to the BJP being in power both at the Centre and in the state.
Specifying a system and a timebound plan to convert investment intents of about ₹17.33 lakh crore, including ₹7.12 lakh crore from the global market, into projects, the CM said he was confident that the investment will give wings to the PM's vision of development.
Read | 'It's advantage Modi if…': Owaisi on Opposition's PM face for 2024 LS polls
"The perception about UP has changed as people are willing to believe that UP can not only think and talk of development but also implement it," he said.
He said out of ₹4.68 lakh crore-worth memorandums of understanding signed in 2018, projects around ₹4 lakh crore were underway already. He added that the government is welcoming smaller investors and listed instances of entrepreneurs making emotional investments in the state.
"People used to complain about poor law-and-order in earlier days. But now everyone accepts that there is a better environment of security. Also, the PM's focus on technology has helped in a big way as no file will ever get buried or stuck anywhere," he added.
He refused to get drawn into a festering row over the comments made by Samajwadi Party leader Swami Prasad Maurya on the Ramcharitmanas but said the people will give opposition parties a befitting response. While development remained his agenda, Hindutva was his soul, the CM added.