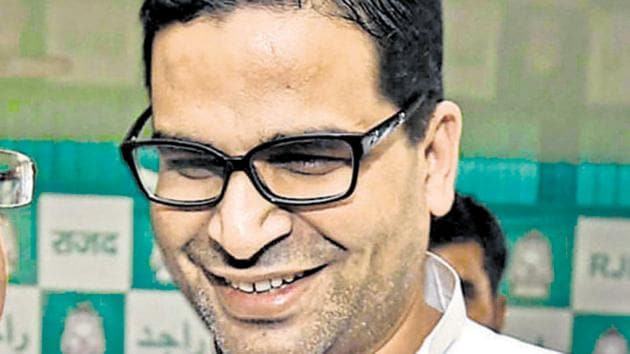 Will poll strategist Prashant Kishor be a part of Team Modi for 2019 campaign?
PM Narendra Modi and Prashant Kishor have "personally" been in touch over the past six months
UPDATED ON FEB 26, 2018 07:26 AM IST
Prime Minister Narendra Modi's 2019 re-election bid may see the return of election strategist Prashant Kishor to his side. The two have met in recent months, and considered the possibility of Kishor working for Modi's campaign in the year ahead, said a key political interlocutor familiar with the development.
After having worked closely with Modi during the BJP's Gujarat 2012 campaign and the Lok Sabha 2014 election, Kishor developed differences and went his separate way — working for BJP's political adversaries, including the Grand Alliance in Bihar and Congress.
But Modi and Kishor had "personally" been in touch over the past six months. This, it is understood, led to direct meetings where both discussed the possibility of working together again and a role for Kishor in the 2019 campaign. Kishor is also learnt to have met BJP chief Amit Shah. Reports had indicated his split from the BJP had come due to differences with Shah after the 2014 campaign.
"The meetings have happened. But it remains tentative. Modi is not the Modi of 2012 when Kishor had first joined his office in Gujarat — he is the PM and India's tallest leader. The BJP is not the BJP of 2014 when Kishor ran a parallel campaign from Gandhinagar — it is a much stronger party. And Kishor is also not the same Kishor — he has gone his separate way over the years. But it is on the table," said the person aware of the conversations.
Nothing, he reiterated, was final.
Kishor, who runs the Indian Political Action Committee, works on personal leadership branding, political strategy, macro and micro campaign events, communication, messaging and speeches, besides proving inputs on ticket distribution and constituency micro-dynamics.
If he returns, he is likely to work directly with PM Modi on his personal campaign. "The BJP organisation is robust. But its role is act as a converter - to turn support into votes. That support comes from the brand, which is Modi. And the 2019 elections will focus once again on the brand," said the person quoted above. Kishor's role, if conversations reach a final conclusion, will focus on how to convey a new message for 2019 to the electorate.
After splitting from Modi, Kishor first advised Nitish Kumar and helped the Grand Alliance of Kumar-Lalu Prasad-Congress win in Bihar in 2015. Kishor then moved to the Congress in 2016, where his record was mixed. Punjab CM Captain Amarinder Singh has publicly recognised his role in the successful Punjab campaign. But in UP, where Congress performed disastrously in alliance with Samajwadi Party, his efforts came a cropper, marking the end of his political ties with the party. He has recently been working with Jagan Mohan Reddy's YSR Congress in Andhra Pradesh.
Close