With drones and AK-series rifles, Kaziranga brings down rhino poaching to 16-year low
Updated on Nov 01, 2017 07:54 AM IST
With sophisticated weaponry, night-vision cameras and fast-track courts, which convicted eight this year, poaching in Kaziranga has slowed.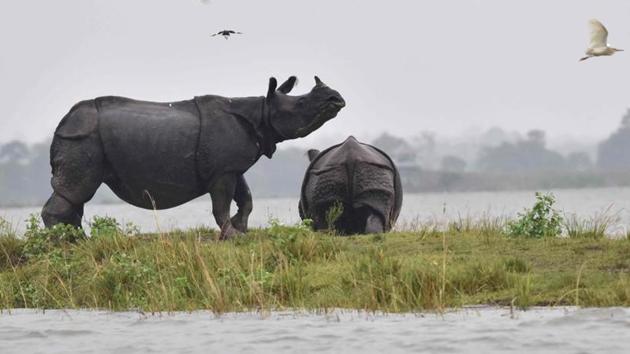 Poachers' guns were silent in Assam's Kaziranga this year. Well, almost.
Only two rhinoceros were killed this year, the lowest count since 2001 for the national park's world-famous residents prized for their horn that feeds a multi-million dollar clandestine international market for the ivory and its perceived aphrodisiac properties.
According to park data, poachers gunned down 143 of these endangered and protected animals in 12 years but almost 70% of them were murdered since 2012, triggering calls for better conservation efforts.
Park rangers turned to sustained surveillance, stakeouts and stealth to track down poachers, especially nightly intruders. They use night-vision cameras, drones and eight 90-foot towers kitted out with cameras that stream live video feeds to a control room.
"These cameras enable us to track poachers and take action before they strike," Kaziranga director Satyendra Singh said.
The park guards carry sophisticated weaponry now, advancing from the antiquated 303 service rifle that fired less and misfired more. And they built a better coordination network with other government agencies, especially the state police, in the fight to save the 430-square-km Kaziranga's wildlife.
"We use night-vision cameras and AK-series rifles in our fight against poachers," said 51-year-old Deben Borah, officer in-charge of Jakhalabandha police station near the park, whose team caught 260 poachers in three years.
The government set up a fast-track court and eight killers were convicted this year alone.
Police confiscated illegal arms from villagers near the park, dealing a blow to poachers who pay poor locals and rely heavily on them for logistics.
Most poachers are members of insurgent outfits or sharpshooters from neighbouring states.
Villagers were warned about the consequences of helping poachers and provided alternative livelihood options by training them to weave clothes and make handicrafts. The authorities set up 38 eco-development committees to help the people.
"These confidence-building measures coupled with frequent interaction with villagers led to better intelligence gathering and more arrests of poachers," Singh said.
Statistics point to the difference these efforts made in the 10 months of 2017, after 18 deaths the previous year.
Chattra Bahadur Thapa, panchayat president of Amguri village adjacent to the park's Burhapahar range, said: "The efforts showed results this year."
But officials are aware poachers would up their game too, with more advanced weapons and techniques. The lure of the rhino horn is not easy to resist. It fetches nearly Rs 1 crore a kilogram in the international market, especially China.
"We can't be complacent as poachers are expected to change strategies," Singh said.
Rhinos in Kaziranga were relatively safe this year, although torrential rain this summer flooded large tracts of the park and put the animals in a spot of bother.
The killers turned to Assam's other reserved forests, killing two rhinos in Pobitora wildlife sanctuary and three in Orang national park.
"The winter would be crucial as some rhinos could venture out for greener pastures. The authorities will have to be vigilant," said Bibhab Talukdar, the founder of wildlife NGO Aaranyak.
Close Story
Personalise your news feed. Follow trending topics