Yeddyurappa resigns, 'Democracy wins', say Opposition leaders from Mamata Banerjee to Arvind Kejriwal
Updated on May 19, 2018 07:25 PM IST
Leaders ranging from Chandrabu Naidu to Arvind Kejriwal said the resignation of BJP leader BS Yeddyurappa as Karnataka chief minister was a victory for democracy.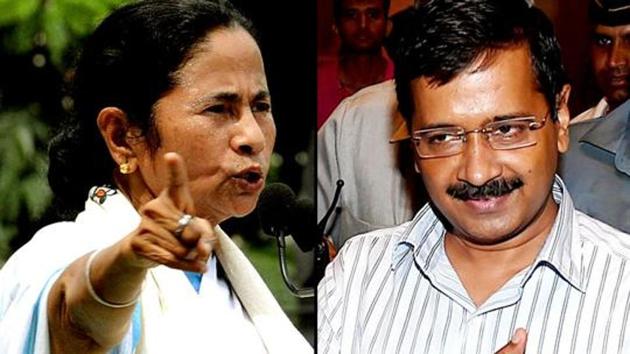 Opposition leaders and non-Bharatiya Janata Party chief ministers on Saturday hailed the resignation of Karnataka chief minister BS Yeddyurappa as a victory of democracy.
In a combative press conference held after Yeddyurappa's resignation, Congress president Rahul Gandhi said he hoped that the BJP and RSS had learned their lesson that the country's institutions cannot be subverted.
Other Congress leaders were similarly vocal in their criticism of the BJP. Senior Congress leader P Chidambaram tweeted that democracy was saved "for the time being".
Punjab chief minister and Congress leader Captain Amarinder Singh tweeted that the nexus between the BJP and the governor has been exposed while the Congress' moral and political stand has been upheld.
Leaders from other parties also rallied around the same sentiment, celebrating Yeddyurappa's resignation as a victory of India's democracy.
West Bengal chief minister Mamata Banerjee took to Twitter to congratulate the people of Karnataka, hailing the resignation as a victory for the democracy. "Democracy wins. Congratulations Karnataka. Congratulations DeveGowda Ji, Kumaraswamy Ji, Congress and others. Victory of the 'regional' front," she wrote.
Delhi chief minister Arvind Kejriwal also tweeted, saying BJP's attempts to "subvert democracy" and its lust for power through "foul means" had failed in Karnataka.
Andhra Pradesh chief minister N. Chandrababu Naidu joined the growing chorus of voices, expressing relief that the BJP's undemocratic behaviour is finally defeated.
"Right now a news came that BS Yeddyurappa has resigned. Are all of you happy? All those who believe in democracy are happy. Amit Shah tried to win Karnataka in all ways and means. Their undemocratic behaviour is defeated," Naidu said at a meeting at Amravati in Andhra Pradesh.
The Andhra Pradesh chief minister also said that today is the day when democracy has won and is finally saved.
"Karnataka governor misused his power by calling BJP instead of Congress - Janata Dal (Secular). When people at the stature of the Prime Minister and President of a national party encourage corruption; what kind of indications do they want to give. At last democracy is saved. We all are very happy. As a chief minister and supporter of democracy, I welcome this development," Naidu said.
Samajwadi Party leader Akhilesh Yadav also attacked the BJP, saying that it was a day when democracy won over money power. He also added that people who claim they can buy any one should learn the lesson that everyone in politics does not think of it as a business and said that morally, the BJP should resign from the central government as well.
Rashtriya Janata Dal leader Tejashwi Yadav also tweeted, saying "Truth can never be defeated! Truth will always defeat a lie or liar!