BHU violence: VC under pressure as human rights body issues notice, admin blamed
Updated on Sep 26, 2017 09:16 PM IST
On Sept 23, several students, mostly women, and policemen were wounded in clashes after police crackdown on protestors in front of the BHU vice-chancellor home.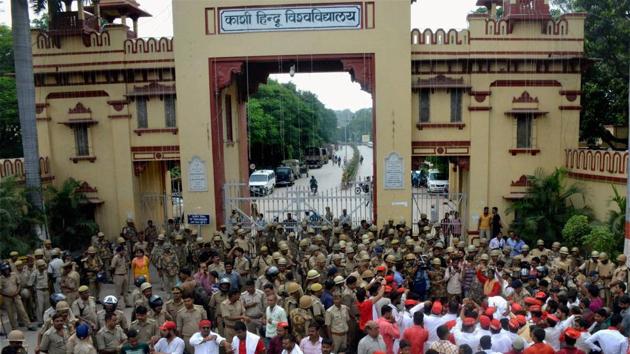 Pressure mounted on Banaras Hindu University's vice chancellor GC Tripathi on Tuesday after the Varanasi commissioner blamed the varsity administration and the National Human Rights Commission asked for an explanation over last weekend's violence on campus.
Students, mostly women, were cane-charged shortly after Saturday midnight when they were protesting the university's alleged inaction over a reported molestation in campus on Thursday. The crackdown left several students wounded and clashes that followed injured a number of policemen.
V-C Tripathi, who was in New Delhi for the varsity's executive council meeting on Tuesday, said that an inquiry will be headed by retired Allahabad high court judge VK Dikshit. The decision was also announced on Monday by the university.
The human rights panel issued a notice to the V-C over the crackdown and molestation case later in the afternoon. "Suo motu cognizance taken in subsequent use of unwarranted manhandling and thrashing of agitating students, mostly women, by UP police", the NHRC said.
Earlier in the day, Varanasi Commissioner Nitin Gokarn submitted a report that blamed the university administration. Sent to chief secretary Rajiv Kumar, the report said BHU did not deal with the victim's complaint in a sensitive manner and did not handle the situation on time, said a senior administrative official.
The report also said that if the matter had been settled on time then there would not have been such a big controversy.
Photos and videos from people present inside the campus and at the entrance of the BHU's main gate showed large groups of police descending on students who had gathered at the two locations. Some videos, which HT could not independently verify, showed male cops raining blows with a stick on female students.
Tripathi late on Monday denied that women students were hit during the crackdown. "There was no baton-charge on any girl on the varsity premises during the intervening night of September 23 and 24. Action has been taken against criminal and anti-social elements who (vandalised) varsity property," a press statement issued late on Monday by Tripathi said.
The vice chancellor also dubbed the alleged sexual harassment as part of a larger conspiracy to instigate women students against him.
"We have asked the administration for initiating a dialogue with the students through the vice-chancellor and a decision to set up close circuit TV cameras there had been taken," said Sharma.
The campus unrest drew flak against chief minister Yogi Adityanath as Congress vice-president Rahul Gandhi and Samajwadi Party chief Akhilesh Yadav hit out at the Bharatiya Janata Party government for the police action.
(With inputs from HTC in New Delhi)