Modi launches app named after Ambedkar, says your thumb will act as your bank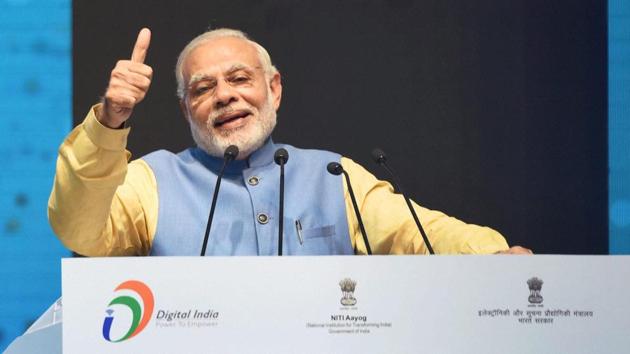 Updated on Dec 31, 2016 01:12 AM IST
In a renewed push to turn India into a cashless economy, Prime Minister Narendra Modi on Friday launched an Aadhaar-based mobile payment application that requires only the user's thumb impression to operate.
Modi named the new app BHIM, short for Bharat Interface for Money, and dedicated it to Dalit icon Babasahib Bhim Rao Ambedkar. "Dr Ambedkar's mantra was to work for uplifting the poor, and the biggest power of technology lies in empowering them," he said at the DigiDhan Mela at Talkatora Stadium here.
The Prime Minister said the BHIM app can be used on all mobile devices, be it a smartphone or a feature phone costing Rs 1,000-Rs 2,000. "There is no need for Internet connectivity, one only needs the thumb. There was a time when illiterate people were called 'angutha chchap'. But times have changed, and your thumb is your bank now. It has become your identity," he added.
Modi said the government was also working towards launching a new security feature that would enable monetary transactions without the use of a phone or the Internet.
Observers see a two-pronged strategy behind naming the new government-sponsored mobile wallet after Ambedkar.
They believe it may help thwart possible criticism from the Opposition, and help the BJP woo a large number of downtrodden people – especially those from backward castes – in the run-up to the Uttar Pradesh polls.
Read | Note ban: Jaitley says normalcy restored to a large extent
The new app, a re-branded version of the UPI (Unified Payment Interface) and USSD (Unstructured Supplementary Service Data), was conceptualised after a high-level panel headed by NITI Aayog CEO Amitabh Kant recommended changes in the rural payment system to suit villagers who felt more comfortable using fingerprints as security codes.
Read | As it happened: BHIM app is a New Year's gift to the people of India: PM Modi at DigiDhan Mela
Modi said that while money lost in scams used to create headlines during the erstwhile United Progressive Alliance's regime, the entire nation was now talking about cash re-entering the system. "Look at newspapers and video clips from three years ago – the news was all about what we lost in scams. However, today it is about what has come back and how much is gained," he added.
The Prime Minister said India still has the potential to become the proverbial 'sone ki chidiya' (bird of gold), a title it once held. "Boosting digital connectivity will do wonders for our nation," he proclaimed, adding that it was just a matter of time before its monetary transactions turned completely digital.
Modi dubbed the 'Lucky Grahak Yojana' and 'DigiDhan Vyapar Yojana' as his government's Christmas gift to the nation. Several prizes worth `1,000 will be given to people through lucky draws over the next 100 days. The mega draw will be held on April 14, the birth anniversary of Dr Ambedkar.
Also read | Demonetisation done without forethought: Congress' Chidambaram hits out at Modi
Close Story