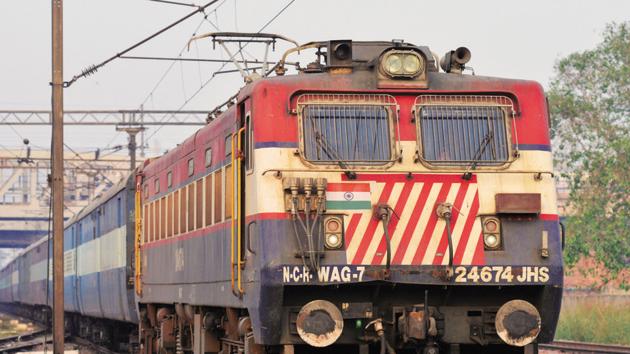 'Zonal rivalries' derail Indian Railways bid to improve punctuality of trains
Earlier this week, the North Central Railway allegedly kept several express trains waiting for green signal at the outer circle of Palwal to dent on-time performance of rival zones
UPDATED ON NOV 11, 2017 12:30 PM IST
Adverse competitions among different railway zones in India to beat others on best on-time performance are leading to delay in services, those privy to the functioning of the world's fourth longest rail network claimed.
On Wednesday half a dozen express trains were kept waiting for green signal from 4.15pm to 5.30pm at the outer circle of Palwal, 85 kms from Delhi on Nizamuddin-Agra route.
Palwal's outer circle is an interchanging point between two railway zones and divisions – Delhi division under Northern Railway (NR) and Agra division under North Central Railway (NCR).
Sources in the railways told HT that the unscheduled halt of trains was due to rivalry between the two railway zones to maintain better-punctuality record.
Anil Bharda, secretary general of the All India Train Controllers' Association, confirmed that NR's Delhi division deliberately halted the trains under the NCR zone to dent its punctuality record.
Indian railways has 16 zones, which are again divided into sub-divisions.
Bharda claimed that as per information he got from both zones it was "at the behest of senior officials that a goods train was denied green signal just before Palwal that falls under Agra division in NCR."
"It blocked the way of all other important trains coming on that route for one and a half hour," he added.
The trains that got delayed were the Samta Express, the Kolapur-Niazamuddin Express, the Amritsar Golden Temple Express, the Sushasan Express, the Andhra Pradesh AC SF Express and the Tamil Nadu Sampark Kranti Express.
The divisional railway manager of Delhi Division didn't respond to calls and messages to comment on Bharda's claim.
A senior railway spokesperson, however, attributed the cause of halt to dense fog, a claim trains drivers HT spoke to rejected.
"There was no fog between 4pm and 5pm," said one of the drivers whose train was halted.
Sanajy Pandhi, working president of the Indian Railway Loco Running Men Organisation, an association of train drivers, says that a train is never halted due to fog, even if it is dense.
"Railway has instructions to keep the trains moving at slow speed in foggy condition. A train can run at a speed of 60km per hour even if there is dense fog."
The NCR-NR rivalry is not an isolated instance.
Sources within the railways informed that such unscheduled halts are prevalent in other interchanging points of sixteen zones, delaying trains, especially the goods trains.
In another instance, a goods train, SBLT special - running between Jhansi to Jodhpur - was halted for 11 hours on November 8 (from 10.15pm on Wednesday to 9am on the next day) at Utawar station near Alwar, because the North Western Railway (NWR) zone allegedly delayed entry of the train into its territory with the same motive.
"The NCR does the same when its turn comes. Sometimes the rivalry is also triggered by ego clashes among senior officials. They go to any extent to satisfy their egos, causing inconvenience to thousands of passengers," says a senior official posted in the NCR zone on condition of anonymity.
According to Pandhi 20% to 30% interchanging stations under some zones are afflicted by the problem.
Bharda, however, thinks the issue is more serious. "Officers pressurise controllers to halt trains even if the track is clear."
The former railway minister Nitish Kumar had, in 2002, increased the number of zones from nine to sixteen to strengthen the railway operations and administrative control.
Indian Railways runs 12,617 trains carrying over 23 million passengers daily connecting more than 7,172 stations covering a route length of more than 64,460kms.
Railways have initiated various measures aimed at improving punctuality of trains and put in place the IT enabled Integrated Coaching Management System (ICMS) for online monitoring of punctuality of passenger-carrying trains.
But such initiatives are defeated by inter-zonal rivalry and ego clashes among officers that lead to unscheduled halt of trains, Pandhi pointed out.
Close