Rain chases India vs Australia ODI cricket series in Indore
Updated on Sep 22, 2017 08:36 PM IST
Persistent rains for the last couple of weeks in Indore have marred the build-up of the India vs Australia ODI on Sunday. Virat Kohli's side currently lead the five-match series 2-0.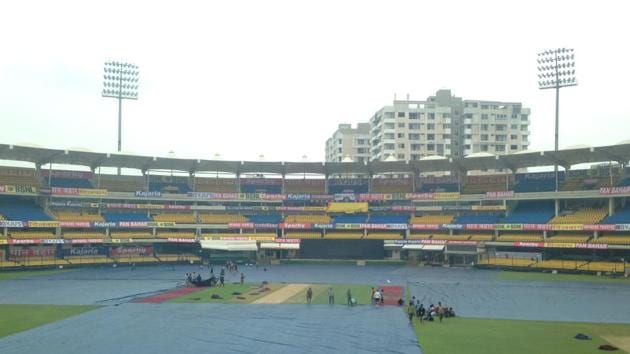 The build-up to the first two ODIs between India and Australia was dominated by rain. In Kolkata, the teams had to practice indoors.
Indore, the venue of the third ODI, too has witnessed inclement weather since the beginning of this month and faced a sharp spell of rain on Friday morning. This has given Samandar Singh Chauhan, the pitch curator at Holkar stadium, sleepless nights.
READ | How mysterious is Kuldeep Yadav? India's hat-trick man has an answer
Speaking to Hindustan Times, Singh said, "It has been a big challenge to get the ground ready. The whole ground has been covered. We have been struggling to get the ground dry."
There are damp patches near the boundary and Singh, along with his staff, is working tirelessly to ensure the outfield is dry.
However, he expects the weather to be clear on the day of the match. "We are in touch with the Met department. It will be cloudy on Saturday and there will be clear skies on Sunday. However, there is a threat of a short, passing shower," Singh said.
READ | Virat Kohli in Sachin Tendulkar, Rahul Dravid league: 10,000 runs in India's wins
Experience of Test match
This is not the first time rain has dominated the build-up to a match in Indore. During the Holkar stadium's inaugural Test match against New Zealand in October 2016, it rained for a couple of days before the start of the match.
"In the Test match last year, there was rain on October 6 and there was rain on October 7. However, there was not much rain as compared to this year," Singh said.
READ | Kuldeep Yadav's mother on Cloud Nine, says Eden Gardens hattrick 'best gift'
Long gap
Australia will be taking on India in Indore after a gap of 16 years. In 2001, the ODI was played at the old Nehru stadium and India thrashed Australia by 118 runs. That match also witnessed Sachin Tendulkar becoming the first player to reach 10,000 runs in ODIs.
"I had prepared the Nehru stadium turf when Australia had come here in 2001. A lot of things have changed since then. Science has advanced tremendously," Singh said.
Virat Kohli's Indian cricket team leads the five-match series 2-0 and a win in Indore will seal the series.