Bajrang Dal attacks cattle trader in Karnataka
Oct 09, 2015 12:06 AM IST
A cattle trader Ibrahim Padubidri in Karnataka was attacked by Bajrang Dal activists with metal rods and chains on a rumour about a stolen cow in Karkala in Udupi district.
A cattle trader in Karnataka had a narrow escape after Bajrang Dal activists attacked him with metal rods and chains on a rumour about a stolen cow even as protests erupt across the country against the lynching of a Muslim man on suspicion of slaughtering a cow.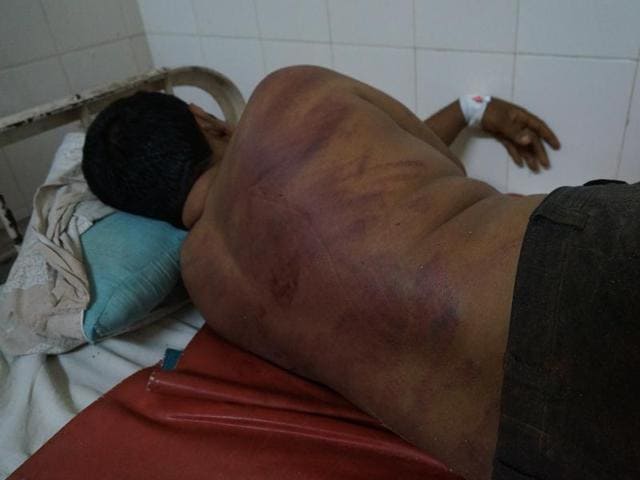 Police arrived in the nick of time in the remote coastal town of Karkala in Udupi district on Tuesday and rescued a barely conscious Ibrahim Padubidri who was returning after buying three cows and two calves from two Hindu farmers.
Ibrahim, whose family has been in the cattle trade for three generations, said he was waylaid and attacked by 30 men.
"The Bajrang Dal men abused and berated them, saying they should be ashamed of themselves for selling cows despite being Hindus. When the police arrived, the men forced a farmer to file a theft case against me," he said.
Ibrahim denied the Bajrang Dal's allegation that he was taking the cows to slaughter. "One of the five cows was pregnant. In Islam, it is a sin to kill a pregnant animal."
The Bajrang Dal's Udupi district convenor, KR Sunil, claimed responsibility for the attack, saying it was their 16th "cow rescue operation" in communally-sensitive Udupi in the last two months.
"We gave him (Ibrahim) a thrashing he won't forget. This should be a lesson to others," said Sunil.
Udupi SP K Annamalai said 10 Bajrang Dal activists had been arrested for the incident. "We have also arrested Ibrahim and admitted him to a hospital," he said. "Transporting cattle in a jeep without permits is illegal."