Dr Kalam, the rockstar: He could charm an audience like no other
Hindustan Times |
, New Delhi
Vishakha Saxena
Jul 28, 2015 05:33 PM IST
Former president Dr APJ Abdul Kalam died on Monday. Here's a first person account from his session from Jaipur Literature Festival in 2015.
It was the fourth day of Jaipur Literature Festival 2015 and the excitement was waning. Sessions, speakers, same old, same old.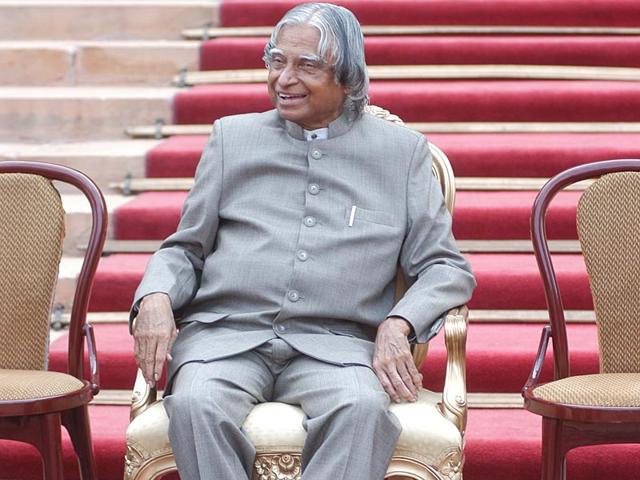 It wasn't very hot but January didn't quite feel like itself.
Stay tuned with breaking news on HT Channel on Facebook.
Join Now
Visitors who had managed to retain their energetic selves were discussing politics, music and books. Others were grabbing a bite and some were dozing off in the middle of sessions.
As the clock neared 5pm though, everything changed. Next up was former President APJ Abdul Kalam.
Thousands of people swarmed towards the festival's biggest venue – the Front Lawns – all at once. Within minutes, the grounds were full beyond capacity. Forget finding a place to sit, there wasn't even space to stand. People were standing in areas they weren't allowed to be in, but no one cared and no one stopped them.
There were so many people surrounding the stage that some had to resort to standing atop their chairs.
Within 15 minutes, the ground was so packed that no one could go out. As this next Vine will show you, Kalam's session drew an audience like no other at the event.
The crowd's excitement and dedication was most visible when Kalam invited questions a few times. Hundreds of hands shot up, people scrambled to stand on their chairs to get his attention. The scene remained the same even when someone already got the opportunity to ask a question.
Those right in front of the stage often jumped with their hands stretched out, screaming "Sir, sir!" All for a chance to speak with him.
The thing about Kalam, I guess, was he spoke like he was mingling with old friends. Animated as ever, laughing at his own stories, and always looking to engage.
The audience roared with laughter every now and then, but for those sitting in the media enclosure – oblivious to the magic he was weaving – the real surprise came when journalists heard the crowd chant "I will try and try".
I remember a few foreigners walking up to me and asking, "Who is this guy?"
"A President!? I thought he was a rock star or something."
Even in the press tent, those who couldn't hear or see Kalam properly, crammed into an adjacent room to watch video feeds. It was unreal, how he kept us all hooked.
You see, Kalam wasn't just talking about his book or sharing anecdotes or discussing India's problems and their solutions. He was reaching out to his audience – his "friends", making them take vows, asking them questions, joking with them, laughing with them and yet, pushing them to think.
Kalam was demanding their attention and boy, was he getting it.
When he asked the crowd to repeat anything, its response was louder than the applause most speakers got at the festival.
They cheered everything from his "okay?" to his jokes and anecdotes, complete with applause and whistles.
And there was no doubt that Kalam really was their rock star.
Here's the video for his session: