Fasten your seat belt... it's here
The Formula One circus arrives at the BIC as tons of equipment is readied for the show. Vinayak Pande writes.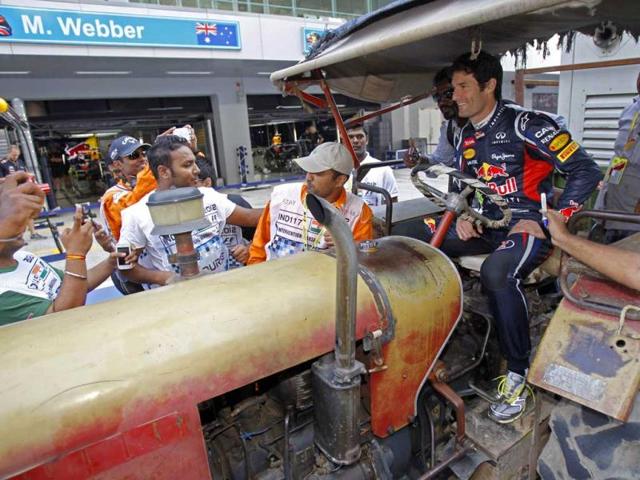 Updated on Oct 26, 2012 01:01 AM IST
None | By Vinayak Pande
, Greater Noida
"That's not a toy, mate!" The very assertive directive comes from a Red Bull Racing mechanic when you try to get too close to the race-sensitive equipment that has turned the bare pitwall at the Buddh International Circuit into a high-tech communications console.
And it's only Thursday!
The most potent racing cars in the world won't take to the track until this morning, but even two days in advance, the madness has begun. However, despite the high-tech surroundings of the circuit's pitlane, there is enough to remind you that you are in India.
A large flatbed truck that looks like it should be bouncing through the potholes of a state highway crawls past mechanics and engineers setting up their pit garages.
Its rough diesel engine seems out of place in an environment that will reverberate to the sound of 24 engines screaming at 18,000 rpm. Not far behind the truck is a scooter seating two (no helmets of course) trying to nip past the truck. Hey, if the likes of Sebastian Vettel and Lewis Hamilton can escape a penalty for racing each other in the pitlane, then the eagerness of the plucky two-wheeler can be given a pass.
Walking past the garages of Force India and HRT F1's Narain Karthikeyan, a not-often-seen sight welcomes you. Pit crews of various teams returning from a runaround of the circuit. Jetlag, the handling of heavy equipment, and long hours working on the cars take a toll on the Formula 1 teams' unsung heroes.
They look nothing like the suited up pit-stop machines we normally see on television. It will take only a day for all that to change though. Come to the circuit on Thursday and you can already hear the first engines being fired up in the garages.
Hardy trucks have given way to fully assembled F1 machinery and pit crews swarming around them. A final burst of an engine sounds through the pitlane.
As if to give a taste of the real madness to come.
Close Story