High-spirited women protest Odisha's liberalised liquor policy
May 04, 2016 08:58 AM IST
Since Odisha relaxed its policy to promote sale of liquor, the state has seen a dozen protests where women have forced closure of booze shops.
Hundreds of women marched under a baking April sun last week in Salepur, a town 50km from the Odisha capital, demanding immediate closure of liquor shops in the locality.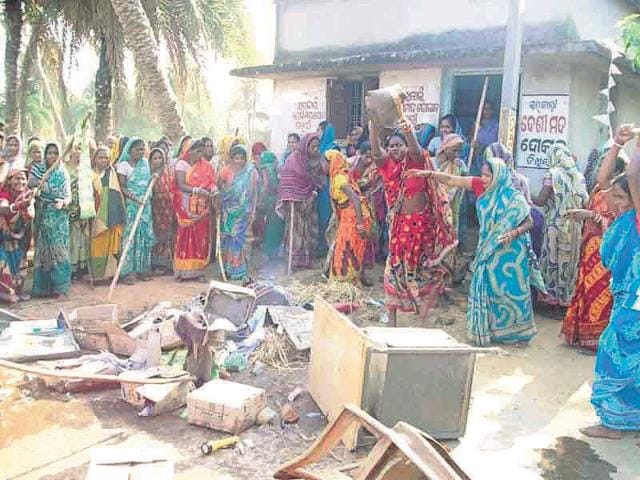 The protest underscores a rising tide against alcohol in the state where the government is encouraging sales to rake in more revenue.
Women are at the forefront of this spirited fight, trying to save their families from the rampant liquor scourge. Anti-alcohol campaigners say most of these protesters are wives of daily wage workers, marginal farmers and village artisans who spend a substantial amount of their income on liquor.
Besides getting addicted, the men's indulgence is ruining families — especially poor households.
There are other reasons too for the protests. Parbati Maharana, a middle-aged Salepur housewife, was furious that the men outside liquor vends passed lewd remarks.
"We would not budge till the liquor shops are closed. The shops are breaking our family life," she said, marching under the banner of Gramanchal Mahila Nisha Nibarana Committee. "The liquor shops should not be allowed near temples and schools."
The rally forced the district administration to close five shops for a few days.
The state has recorded at least half-a-dozen protests in the past month since the government announced a liberalised liquor policy, which contrasts neighbouring Bihar's alcohol ban from April 1.
With more than 4,200 shops, Odisha's excise revenue went up from Rs 306.61 crore in 2004-05 to Rs 2,557 crore in 2015-16. It aims to mop up Rs 2,800 crore from liquor sales this fiscal.
Beer has become cheaper while the licence fee to set up a brewery, distillery or micro-brewery has reduced under the policy that kicked in on April 1.
Excise minister Damodar Rout says his government can't ban alcohol as its consumption is a "private affair". But his logic didn't pass the test in the growing chorus against alcohol.
A mob torched a shop in Koraput district in March. On April 1, women of a village in Deogarh district ransacked a shop. In coastal Kendrapada, hundreds of campaigners ransacked a country-liquor shop and set it on fire in March.
Police rushed to the village but watched the crowd from a distance. They didn't want to repeat the March 2015 incident when 16 villagers, mostly women, were wounded in police firing after a mob burned down a village liquor shop in the same district. These were poor Dalit women, frustrated by their husbands and sons spending their wages on liquor.
"These women are suffering every day and they have realised that they can't sit silent any longer," said Pramila Swain of Odisha Mada Mukti Abhiyan, an anti-alcohol group.
Excise commissioner PK Senapati says not all protests against liquor shops are related to rising alcoholism. "There are vested interests that encourage women to protest against an old shop so that another shop can come up," he said.
But anti-liquor activists point to other interests. "Politicians know that it's easier to hoodwink people if they can keep them intoxicated. But the women will fight back," said Malay Tripathy of Milita Odisha Nisha Nibaran Abhijana, an NGO.
The Odisha Prohibition Act 1956 was not enforced till 1994 when former chief minister Biju Patnaik banned alcohol — two years after spurious liquor killed 300 people in Cuttack. The JB Patnaik-led Congress came to power in 1995 and lifted the ban.
After chief minister Naveen Patnaik took over in 2000, the state government began retailing liquor through its Odisha State Beverages Corporation.