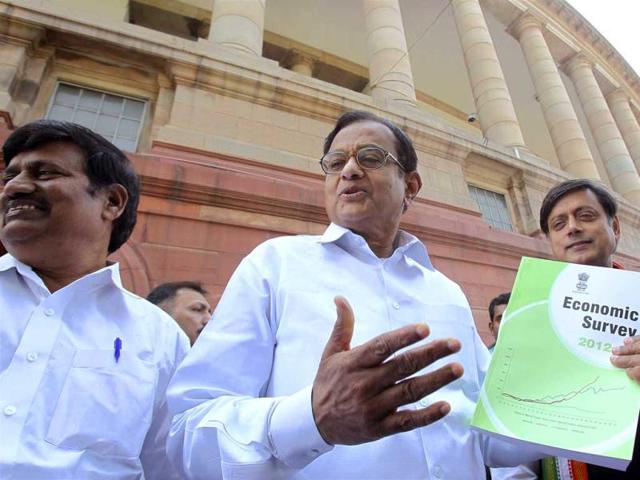 Highlights: Economic Survey 2012-13
Highlights of the Economic Survey 2012-13 tabled in Parliament by Finance Minister P Chidambaram on Wednesday.
UPDATED ON FEB 27, 2013 06:22 PM IST
The finance ministry delivered a report on the state of the economy on Wednesday, a day before finance minister P Chidambaram unveils what is expected to be the most austere budget in years.
The annual report was prepared by Raghuram Rajan, the former chief economist to the International Monetary Fund (IMF) who became the top adviser in the finance ministry last year.
Following are highlights of the report:
GROWTH
* GDP growth seen at 6.1-6.7 pct in 2013/14

FISCAL DEFICIT
* India likely to meet fiscal deficit target of 5.3 pct of GDP in 2012/13, despite "significant" shortfall in revenues
* Government target for fiscal deficit is 4.8 pct of GDP in 2013/14
* Government target for fiscal deficit is 3 pct of GDP in 2016/17
* Prioritisation of expenditure seen as key ingredient of credible medium-term fiscal consolidation plan
* Raising tax to GDP ratio to more than 11 pct seen as critical for sustaining fiscal consolidation
* Room for accommodative monetary policy with expected fiscal consolidation

INFLATION
* Headline inflation may decline to 6.2-6.6 pct by March

CURRENT ACCOUNT DEFICIT
* Focus on curbing imports, making oil prices more market determined to reign in current account deficit
* Recommends curbing gold imports to reign in current account deficit
* Room to increase exports in the short run limited

FOREIGN INFLOWS
* Foreign Institutional Investors (FIIs) flows need to be targeted towards long-term rupee instruments

SECTOR GROWTH
* Industrial output seen growing around 3 pct in 2012/13
Close