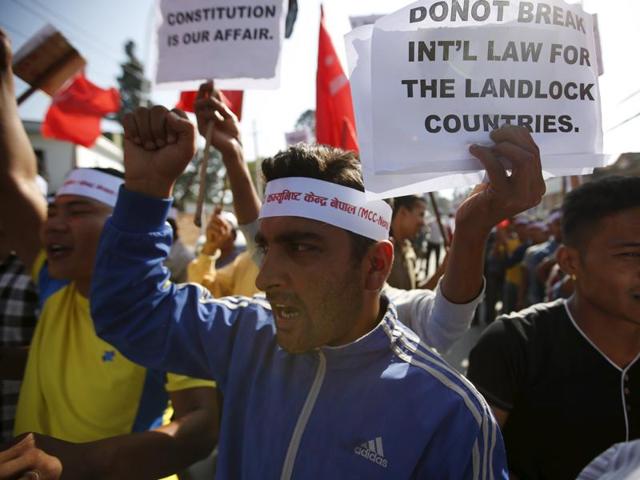 India asks Nepal to solve crisis, warns against 'China card'
India and China have been in touch and discussed the Nepal situation after a political crisis broke out in the country with the promulgation of the new constitution. Delhi is also confident that that the effort of a section of the Nepali political elite to play the 'China card' will not succeed
UPDATED ON OCT 01, 2015 09:30 AM IST
India and China have been in touch and discussed the Nepal situation after a political crisis broke out in the country with the promulgation of the new constitution. Delhi is also confident that that the effort of a section of the Nepali political elite to play the 'China card' will not succeed.
Top sources in the Indian diplomatic and security establishment have told HT that India and China have often shared views on Nepal in Kathmandu, Delhi and Beijing.
The Indian ambassador and Chinese ambassador in Nepal meet at regular intervals, both separately and in meetings of ambassadors convened by the UN resident coordinator. This is a part of India's broader engagement with the international community.
In the wake of continuing unrest in Nepal after the constitution, Delhi and Beijing have 'engaged at various levels', said a source. "Views have been exchanged and we both hope for a quick resolution of differences through dialogue and stability in Nepal."
Relations between Kathmandu and New Delhi are going through a difficult phase, and supplies across the border have been completely disrupted. Kathmandu has termed it an unofficial Indian blockade, while Delhi has insisted that domestic protests within Nepal have caused the disruption.
A section of the Nepali leadership has signalled its willingness to play the 'China card' and explored possibility of assistance from the northern neighbour. But Indian officials say they are not worried, and confidently assert that the card will not work. "They are trying to send a message but this is not a very credible message," said sources.
For one, the key northern border crossings are closed after the earthquake and it is unlikely this can be reopened. The approaching winter will not make it easy either. "Geography and costs make it unsustainable for Nepal to rely on China," said a government official.
India feels the key issue is the strategic balance. China may want to use certain constituencies in Nepal but would not like the balance to be disturbed beyond a point. Even if there are few symbolic gestures, China, said an official, is aware that it cannot be a substitute for India in Nepal.
"Look this is not about India vs China. It is about the Nepali political leadership finding a quick resolution to the domestic strife. We would strongly advise them to look within and resolve issues rather than play games which won't go far," a source said.
Close