India, France sign Rafale jet deal, but talks on price to go on
India and France on Monday signed a memorandum of understanding on the purchase of Rafale combat jets, with Prime Minister Narendra Modi saying they had reached an inter-governmental agreement and the "financial aspects will be sorted out soon".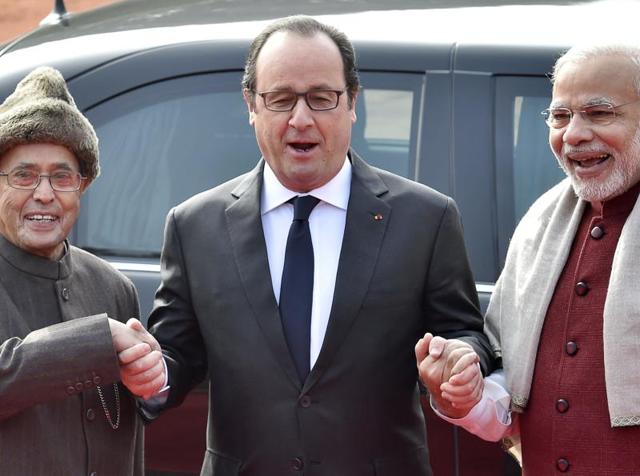 Updated on Jan 26, 2016 01:54 AM IST
India signed an inter-governmental pact with France to buy 36 Rafale fighter jets on Monday but said sorting out details of the $9 billion deal such as pricing and post-sales servicing would take some more time.
India had scaled back the original plan to buy 126 Rafale jets to meet its air force's urgent needs, but Modi and Hollande had to step into the deal after commercial negotiations between plane-maker Dassault Aviation and Indian officials collapsed.
Officials had hoped to sew up the deal for Prime Minister Narendra Modi and French President Francois Hollande to announce during the latter's three-day visit to India. Hollande is the chief guest at the Republic day celebrations in New Delhi.
But both sides said more talks were needed over the deal, which was announced by Modi during his visit to France in April.
"France is a special friend. Eighteen years ago, France was the first country we signed a strategic partnership with. We are now here to take it higher," Modi said at a joint press conference following his talks with Hollande.
India is seeking to quickly upgrade its mostly Soviet-era military equipment, looking to pump in some $150 billion into the overhaul, as it faces off China's growing assertiveness in the region.
Hollande and French business leaders also met with their Indian counterparts to boost bilateral trade, which totaled $ 8.6 billion in 2014.
Addressing businessmen at industry lobby FICCI, French finance minister Michel Sapin said companies from his country will invest $10 billion in India over the next five years, chiefly in the industrial sector.
"Over the last five years, French companies have invested more than $1 billion per year in India. We estimate that they will continue to invest at least $10 billion over the next five years."
"The majority of these investments are meant for the industrial sector, which makes France the major player in Prime Minister Modi's 'Make in India' programme," Sapin said.
France also promised support for India's clean-energy quest, including a $300 million initial support for a solar energy alliance launched last month during global climate talks held in Paris.
Also Read | With Hollande in India, France get down to business
Also Read | Hollande in India: France badly needs deals, ideologies can wait
Close Story