Meet the parents
Updated on May 23, 2009 10:54 PM IST
It's 'Arranging' Indian Marriage with a twist: it's now the children who organise meetings between potential in-laws. Ruchira Hoon elaborates.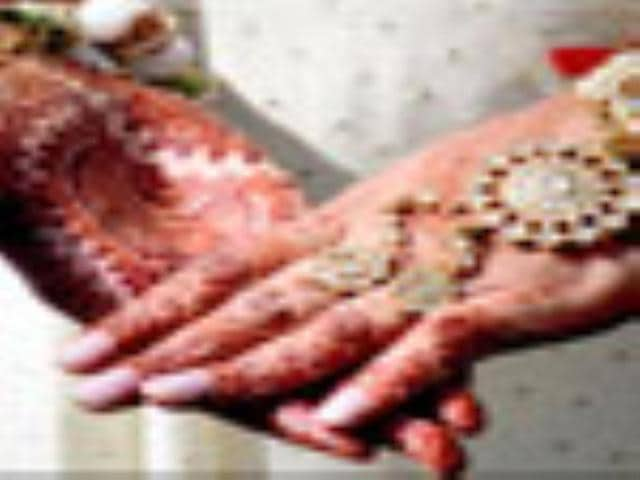 Hindustan Times |
Ruchira Hoon
Two days after Anjali Maheshwari and her boyfriend Srikant Iyer decided that they wanted to tie the knot; it dawned on Anjali that their respective parents had to meet each other. A nervous wreck, she took on the responsibilities to decide the date, time and venue as well as several other things.
"I wanted to ensure nothing went wrong and my parents made a good impression on Srikant's: I groomed them thoroughly on what not to say and even took them shopping for new clothes. I wanted my mother to show off her baking skills, so I got her to bake a chocolate cake," says this 31-year-old marketing professional. "And when we met, the hard work paid off. The cake broke the ice and they got along fabulously."
Advertising executive Mitali Gupta went through a similar situation, but she took the meeting of her boyfriend's parents a step forward. Not only did she get her parents appropriately dressed, she made sure that her entire house was well-dressed too. In a matter of a week, she managed to re-upholster the rooms, call a cleaning service and even made sure that her mother brushed up her English.
If Anjali and Mitali's story sounds familiar, you've entered the big league of meeting the parents. It's where first impressions count. It's where getting along is important. It's where you call the shots.
Goodbye shy bride-to be, welcome to an era of docile parents-in-law to be.
Shaadi, aur tum se?
The concept of marriage is changing. No longer is the first meeting between two sets of families limited to the bashful Indian girl serving tea, instead it's the parents-in-law whose skills matter the most. Of course Indian weddings are a bond between two families. And cashing in on this fact is the younger generation, who are keen to show their parents that they've made the right choice. It's the parents who are up for display and it's the parents who have to behave perfectly.
"Raghav and I wanted to ensure that our parents got along, so that we had a smooth wedding," says 29-year-old Nandita Rai. "So we took all four of them to a nice cozy restaurant in the suburbs of Delhi. My mother made all the right noises about his mother's clothes and my father laughed at all of his father's jokes." With both the parties at their best behaviour, steering clear of all controversial topics, it was left up to Nandita and Raghav to make all the final decisions. "And honestly, that's the way we wanted it too."
Indian youth seem to have finally caught up with a concept extremely popular in the west — that of orchestrating a meeting between the two sets of parents and making sure it goes off well. The only difference here is it's done with oodles of Indian panache.
Whether it's displaying their mothers' cooking skills, or showing off their swanky bar or even their ability to talk about anything under the sun, it's presenting the best side of their parents to their prospective in laws what matters the most. Meet the parents with an Indian twist.
Madhumita Rawat, whose daughter Shubhangini made her take accent training classes, says she understands why it mattered to her daughter that she sounded neutral. "Her boyfriend Ajay's parents have lived in America for all their lives, and Shubh just wanted to make sure they understood me," says this 52-year-old housewife. "I want my daughter to be happy, so what's a little accent training class? On the plus side, I did really sound better after that."
Parent talk
Gone are the days where the parents made all the decisions. In fact Srikant Iyer's father Ramesh remembers how he got to meet his wife. He remembers her as a demure girl dressed in a green kanjeevaram sari offering him hot vadas and not even looking up at him. "When my parents asked me if I liked her, I merely nodded my assent. And the rest my parents took care of," says this 59-year-old financial consultant. "Today it's all about going with the flow."
Several urban parents are glad that their child has finally found someone and are more than willing to pander to their progeny's request. Especially if they are not marrying someone controversial (read from a different religion or from a mafia family). Which is why they go the extra mile when it comes to meeting the other parents.
Retired school principal Akhilesh Srivastav and his wife flew down to Kolkata to meet his prospective samdhis. His son, Arjun had instructed him to carry individual presents for his girlfriend's parents, grandparents and all three siblings. "I did exactly that and I was such a hit," he grins. Despite all that, he goes on to add that as an Indian, he has Indian expectations. "I did expect them to take exceptionally good care of me, since I was the boy's father — and they did.
Which is what won over my heart. Whether or not I have a say in the wedding plans, I would still like to meet our samdhis
from time to time and will definitely invite them over for special occasions."
Meeting the parents before deciding on how to get married seems to be a cursory deal for several urbanites. With children making the final deal between themselves, what role do parents play? If the families are good, there's really nothing we can do, says Ramesh Iyer, Srikant's father. Offering support, he says, is the best thing.
Personalise your news feed. Follow trending topics