Mulayam, Akhilesh have destroyed UP, says Modi
In arguably his biggest rally in Uttar Pradesh so far, BJP's PM nominee Narendra Modi reached out to the state's poor and launched a blistering attack on Congress and Samajwadi Party. Modi rally showcases national brand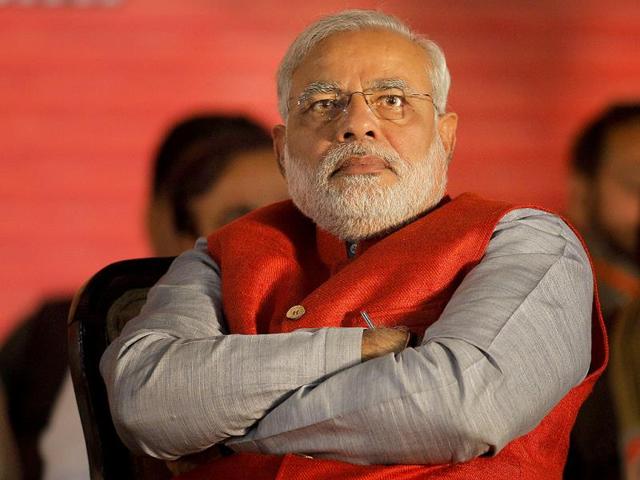 Updated on Jan 23, 2014 11:50 PM IST
In arguably his biggest rally in Uttar Pradesh so far, BJP's PM nominee Narendra Modi reached out to the state's poor and launched a blistering attack on Congress and Samajwadi Party.
Steering clear of rhetoric that could be read as communal in the Hindutva bastion of Gorakhpur, Modi said the Congress has been using the poor only as a vote-bank and deliberately kept them poor despite being in power for 60 years.
"You give me 60 months and I promise you a life of happiness and peace," he said, while accusing the Congress of holding the poor in contempt.
"They cannot tolerate a chai-walla lifting his head. They are making fun of poverty…can you tolerate this humiliation," he asked the crowd which answered "no"!

Read: Modi's vision for a 'new India' ahead of LS polls

Since the Congress has only been paying a lip service to the tribals and scheduled caste communities, they couldn't win a single seat, out of the 34 seats with majority SC and ST populations, in Rajasthan, Modi said.
Mocking SP supremo Mulayam Singh Yadav and CM Akhilesh Yadav, who addressed a rally in Varanasi on Thursday, for 'following him', he said the father-son duo could never convert UP into a Gujarat.
"The meaning of Gujarat is 24 hours electricity for 365 days in every village. You need a 56-inch chest to make a Gujarat. You can't do it netaji (as Mulayam is referred to by his partymen)," Modi added.
He said the father-son duo had destroyed UP.
"Uttar Pradesh ko Gujarat banane ke liye 56-inch ka chauda seena chahiye, vote bank kii rajniti karne waale log nahin," (For turning Uttar Pradesh into Gujarat, a vibrant state, one needs a 56-inch chest and not politicians digging their heels into vote bank politics), Modi said, as the massive crowd cheered at Manbela in Gorakhpur.
Read: Two held for carrying knives into Modi's UP rally venue
Read: For Modi, it's both an opportunity and a threat in UP
To become Gujarat, Uttar Pradesh needed 10% growth in agriculture, not three or four per cent as in the past 10 years, Modi said.
Gujarat, he pointed out, meant 24x7 power supply, sugarcane dues paid on time, crushing of cane on schedule, and happy farmers, something not possible for the Samajwadi Party government, Modi said.
"Uttar Pradesh has the potential to become the leading state in the country, but sadly the people who have ruled here in the past one decade have chosen to ruin the state with their petty, narrow political thinking and vote bank politics," the Gujarat chief minister said.
Read: Modi rally showcases national brand
"The state affords no honour to girls and women, no employment, no security or safety for its citizens. You have destroyed the mandate given by the people to your party in the 2012 state assembly polls," the BJP leader said, referring to Mulayam as "Netaji" as he is called by his partymen.
Predicting that the voters of the country had made up their mind to vote out the Congress and its allies, Modi also charged the United Progressive Alliance government and its allies, the Samajwadi Party and Bahujan Samaj Party, of presiding over gloom in the country.
(With IANS inputs)
Close Story