Terror alert on Shivratri: Heavy security at Somnath, Kashi Vishwanath
, Ahmedabad/new Delhi/lucknow
HT Correspondents
Mar 07, 2016 11:32 AM IST
People offered prayers in Shiva temples on Monday amidst a nationwide alert for possible strikes at religious places by terrorists suspected to have sneaked in from Pakistan
Devotees passed through eight security checks and security personnel on horseback patrolled the beach near Somnath temple in Gujarat on Monday amidst a nationwide alert for possible terror strikes at religious places.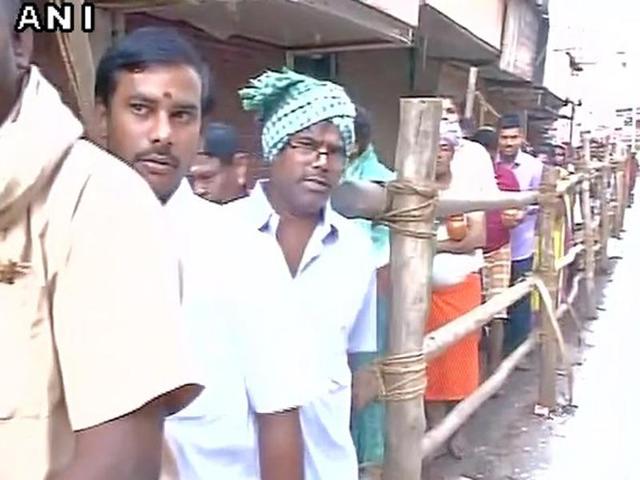 Union home minister Rajnath Singh is scheduled to meet top officials of the Intelligence Bureau (IB) and R&AW on Monday to discuss the security scenario following Pakistani national security adviser Naseer Khan Janjua informing his Indian counterpart Ajit Doval about 10 militants sneaking into Gujarat from Pakistan.
While an abandoned boat was discovered off the Koteshwar coast, it was not clear if terrorists managed to land on Indian soil.
The IB on Sunday issued a nationwide alert over the possibility of terrorist strikes on Shivratri, which is being observed across the country.
Read | Terror alert: 4 NSG teams in Gujarat, one to guard Somnath temple
"Apart from Somnath, security has also been beefed up at two other Shiva temples at Bhavnath and Nageshwar," said Gujarat director general of police PC Thakur.
Bhavnath is located at foothill of Mount Girnar, where several lakh sadhus from across India come together to mark Shivratri.
At the Somnath temple –attacked and looted by invaders several times over the centuries – devotees are going through eight security checks before allowed into the sanctum sanctorum, officials said.
Apart from 1,000 Gujarat police men, the temple located on the shores of the Arabian Sea, the government has deployed a team of elite NSG troopers.
Police said details of SIM cards sold in the last two months are being scanned by a joint team of anti-terrorist squad and crime branch. 10 people have been detained for questioning.
Security personnel on horseback were also patrolling at the beach that surrounds the temple from three sides.
IANS quoted an official as saying in Lucknow that heavy security has been put in place at important Shiv temples in Uttar Pradesh and special security checks were in place at the Kashi Vishwanath temple in Varanasi.
Vigil is also being maintained on big and small temples in places like Kanpur, Agra, Lucknow, Faizabad, Gorakhpur and Azamgarh, the official said.
Police was keeping a close eye on the 'kanwarias' – Shiva devotees who carry holy Ganges water for offering at temples -- as there was an apprehension that they may be targeted by terror outfits.
Watch | Ganga Aarti performed at Haridwar's Har Ki Pauri on Mahashivratri
Police was keeping a close eye on the 'kanwarias' – Shiva devotees who carry holy Ganges water for offering at temples -- as there was an apprehension that they may be targeted by terror outfits.
Read | Delhi on high alert after report of Pak militants sneaking into Gujarat
Security personnel have also been deployed across Delhi's crowded markets while they checked vehicles and frisked visitors at religious sites.
The Pakistani NSA's tip-off is being cited as an unprecedented action by Islamabad at a time when New Delhi has linked any progress in peace talks with its neighbour with action against anti-India militant groups said to be behind the January attack on an Indian air base in Punjab's Pathankot district.
A senior National Security Guard (NSG) officer told HT that though the threat is limited to Gujarat, an alert has been sounded across the country, leaving nothing to chance. Security sources said dangers posed by a group of 10 attackers, who can divide themselves into at least five teams, cannot be brushed aside.
The sharing of intelligence by Pakistan coincided with a BSF patrolling team discovering an abandoned boat – allegedly from the neighbouring country –off Gujarat's Koteshwar coast on Friday.
Nothing suspicious was found on the vessel but it was the fifth such recovery in three months.
An alert was also sounded at the Pathankot base while police carried out searches nearby amid reports that a telephone call was made to Pakistan from a neighbouring village.
The siege of the air force station in January derailed proposed talks between the foreign secretaries, with India making it clear that the possibility of dialogue hinged on Islamabad clamping down on those behind the attack.
(With agency inputs)