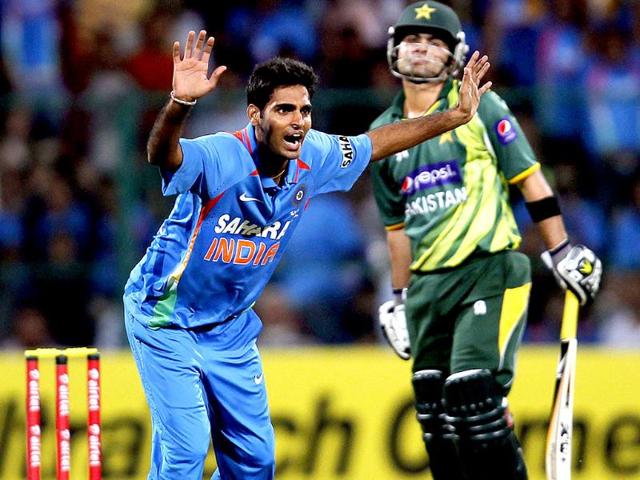 No dearth there as Pak keeps revving it up
While Pakistan are understandably jubilant with their fast bowling resources, they can't put a finger on the exact reason for this inexhaustible supply, Subhash Rajta reports.
Hindustan Times | By Subhash Rajta
, Kolkata
UPDATED ON JAN 02, 2013 10:34 AM IST
Where does Pakistan get their fast bowlers from? That question has done the rounds for decades now, but as exceptional quicks keep emerging from across the border with amazing frequency, one can't but help ask it over and over again.


In a short series like this, two new pacemen have already caught the imagination of fans; they were still gushing over seven-footer Mohammad Irfan when Junaid Khan burst on the scene with his impressive swing and speed. "Junaid has been amazing. If he keeps up the good work and performs consistently, we might have a left-arm bowler as good as Wasim Akram," said Younis Khan, showering rich praise on the 23-year-old.
While Pakistan are understandably jubilant with their fast bowling resources, they can't put a finger on the exact reason for this inexhaustible supply.


Many reasons
"It's really difficult to pinpoint one reason why we keep getting one pace bowler after another. Maybe genetics has got something to do with it. Our bowlers have good build and stamina that goes a long way in bowling quick," said Pakistan skipper Misbah-ul-Haq.
Surprisingly, he feels the lifeless wickets in Pakistan too contribute to developing good fast bowlers. "The tracks are not helpful at all and the bowlers have to put in a lot of hard work to overcome this. That too helps them become better bowlers."
Sadiq Mohammad, the former Pakistan opener, feels the aspiring bowlers have great role models to look up to and find inspiration. Besides, he feels the involvement of former greats like Wasim Akram and Waqar Younis, facilitated by the Pakistan Cricket Board, plays a huge role in developing the raw quicks.
"They give them the best possible education... how to bowl, how to use the crease, how to reverse-swing, and all of that. They get very good coaching from two of the greatest bowlers produced by Pakistan."


County Experience
Another common aspect amongst the Pakistan bowlers is their stints in county cricket, which helps them develop as bowlers. Wasim Akram would any day vouch the positive effect the county stint has on the bowlers.
"We see our young bowlers going to county and coming back as completely different and evolved bowlers. The county stint injects a sense of discipline in their thinking, eating habits and their game. Even Akram turned into the bowler the world knows only after he went to play county cricket," said a senior Pakistan journalist.
India too have witnessed the benefit first hand. Zaheer Khan, struggling with fitness and his bowling rhythm, went there in 2006 and returned a transformed bowler.
Nevertheless, the trend hasn't apparently caught on among the Indian pacers with their fragile fitness telling on the national team's performances.
Yet another explanation for this striking trend in Pakistan is tape-ball cricket.
"The tennis ball is wrapped in tape and the bowlers need to generate high speed to beat the batsmen. It takes a lot of effort from the bowlers to bowl with it ...it prepares them a great deal to play at the higher level," said another Pakistan journalist.
Above all, as Shoaib Akhtar told Sourav Ganguly on a recent TV show, Pakistan is simply blessed with speed merchants.
Close