One year on, PM Modi's Swachh Bharat drive fails to leave a mark
It was exactly a year ago that Prime Minister Narendra Modi picked up a broom at a New Delhi neighbourhood to launch one of independent India's most ambitious civic programmes yet -- to make the country open defecation free and clean up public places by 2019.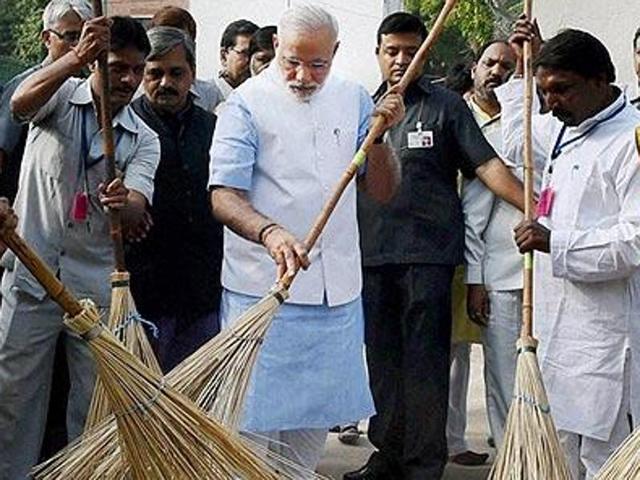 Updated on Oct 01, 2015 02:19 PM IST
Hindustan Times |
, New Delhi
Moushumi Das Gupta and Brajesh Kumar
It was a year ago that Prime Minister Narendra Modi picked up a broom at a New Delhi neighbourhood to launch one of independent India's most ambitious civic programmes yet -- to make the country open defecation free and clean up public places by 2019.
With India accounting for 60% of the world's open defecation, Modi's personal involvement set the tempo, with his ministerial colleagues, bureaucrats and civil society following suit, taking up well publicised cleanliness campaigns across many parts of the country. But on the ground, the hype and photo-ops have failed to make an impact.
One year down the line, government statistics reveal that it has a long way to go before the goal of eliminating open defecation can be achieved. Inadequate funds, lack of capacity of municipalities and district panchayats to undertake the gargantuan task, an ineffective awareness campaign that has failed to bring about behavioural changes among the people to use latrines, are among some of the reasons that urban experts are citing as factors that could end up derailing the ambitious mission. The less than enthusiastic response from the private sector to take up toilet building has added to the government's woes.
The government has earmarked Rs 1.96 lakh crore to build 13.04 crore individual household toilets, over five lakh community and public toilet seats and provide solid waste management facilities by 2019, coinciding with Mahatma Gandhi's 150th birth anniversary. In the current fiscal, a little over Rs 5, 000 crore has been allocated for the Clean India campaign.
Of the 13.04 crore household toilets, 12 crore are to be built in rural areas where, according to Census 2011, 67% of the households defecate in the open. As against this target, the Ministry of Drinking Water and Sanitation, which is implementing the programme in rural areas, has managed to build 95.23 lakh toilets so far. This includes 43.81 lakh toilets that were built between April and October 2014, before the Clean India campaign was launched, under previous government programmes to improve sanitation coverage, including the Nirmal Bharat Abhiyan.
Read: Swachh Bharat Abhiyan: Is Modi's scheme a success?
"The problem is that rural sanitation policy does not address the real reasons why people do not like to use toilets. Many people in rural India, where 90% of the country's open defecation occurs, believe that the kinds of toilets the government promotes are impure. There is also substantial concern over what will happen when the pits of these toilets fill up, since emptying a pit is associated with manual scavenging. Unfortunately, the government's awareness campaigns are not addressing these concerns. Any policy that hopes to eliminate open defecation in the next 4 years will certainly need to take these important barriers into account" said Sangita Vyas, MD, Research Institute for Compassionate Economics, a policy and advocacy group focusing on child and maternal health in India.
Even in urban areas – where 13% of the households defecate in the open – and where the remaining 1.04 crore toilets are to be built, the progress is nothing to crow about. Till September 4, nearly 4.64 lakh toilets have been constructed as against the target of 2.5 million till March 2016. Of the 100,000 community and public toilet seats that are to be built by March 2016, just about 18 % had been completed.
It's not that the government has been inactive on shoring up funds for the PM's pet mission. It has set up Swachh Bharat Kosh, a special fund to seek charitable contributions to the cause. Finance minister Arun Jaitley has already proposed a Swachh cess in the budget, a 2% surcharge on select services to finance and promote initiatives under the flagship programme.
But even the government realizes that there is a need to do much more. Recently the Urban Development ministry wrote to all states requesting them to levy a user charge to support solid waste management services. It has admitted that inadequate budget of municipalities can derail the Swachh Bharat initiatives in urban areas. Recently, a committee of the National Institution for Transforming India (NITI) Aayog has also recommended levying a cess on telecom services, fossil fuels like coal and petrol to garner resources for the campaign.
"The mission will deliver only if the implementation is focused, time-bound and dedicated funding is made available. Regular monitoring and handholding of municipalities is also crucial. There is need to bring about a toilet usage culture through a sustained awareness campaign. The community has to be involved to make the programme successful," said M Ramachandran, former union urban development secretary.
Close Story
Personalise your news feed. Follow trending topics