Rahul Gandhi attacks Modi, dubs him as 'one man who knows everything'
Stepping up the offensive, Rahul Gandhi Thursday hit out at BJP's ideological mentor RSS saying its belief was "murdering" individuality and that thought process is now running the country in which only one man knows everything from farmers to clothes.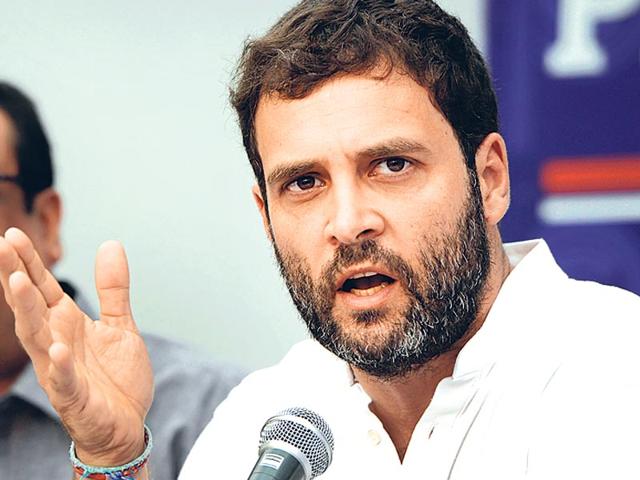 Updated on May 29, 2015 07:49 AM IST
Dubbing Prime Minister Narendra Modi as "one man who knows everything", Congress vice-president Rahul Gandhi on Thursday said that the PM had to attend his predecessor's pathshala as he could not understand how the economy functions.
Referring to the meeting between Modi and Manmohan Singh on Wednesday, Gandhi said at a convention of the Congress's students wing NSUI, "After Manmohan Singhji said that the economy is down, the PM met him for an hour-long pathshala. He was unable to understand, how the economy functions. He wanted the former PM to teach him what to do."
The PM on Wednesday held a long meeting with Singh where the two leaders discussed foreign policy and economic issues. The PM had later tweeted that it was "a great meeting."
On Thursday, Gandhi accused the BJP and the RSS of trying to "stop the internal dialogue of the country" and added, "There's one person who knows everything. He knows farmer issues, education issues and the man even knows about dresses (a veiled reference to Modi's pinstripe suit). He teaches people on how they should talk."
"Modiji talks about helping the poor. He has gone to France, the US, Japan… even reached Mongolia and China, but he didn't visit a house of a farmer or labourer," Gandhi quipped amid thunderous applause.
"In the RSS, people stand in a straight line. Any deviation and that person is beaten with sticks. Discipline for the RSS is an excuse to abolish individuality. Their salute is like what used to be in Germany," he said.
The Congress vice-president warned the crowd of the growing influence of the RSS in different spheres of society — especially in education. "There is heavy RSS influence in education ministry. Earlier noted scientists wanted to be in IITs, Now they want to move out. University and education system is our future.
While Gandhi spent most of his time bashing the BJP and the RSS, he also spoke about Congress' own organisation. "There are seniors sitting here. We will also take them along with us." Gandhi remark assumes significance in the wake of the perceived tussle between the young generation and the old guards in the Congress hierarchy.
He also denounced the PM's much hyped Make in India scheme: "Take it from me, nothing will happen in Make in India. It will produce a big zero."
Close Story
Personalise your news feed. Follow trending topics