Raoghat mines in Bastar: Iron in their souls
Mar 30, 2014 08:42 AM IST
The Raoghat mines is the latest flashpoint between the state and the people over what should be the right road to development. The Bhilai Steel Plant iron-ore mine had led to massive deforestation in Dalli-Rajhara, so would its mine at Raoghat be any different?
Hills can be unkind, if you are climbing them, or even if you are trying to save them. They have no properly marked-out roads, the clock here is meaningless, but there is shade, and the trees here are everything. The trees point to the sky like compasses; they pelt down flowers, sour-sweet fruits; their leaves are eaten by cows and men; they house the gods, and gods here are like relatives – so why can't the people keep them?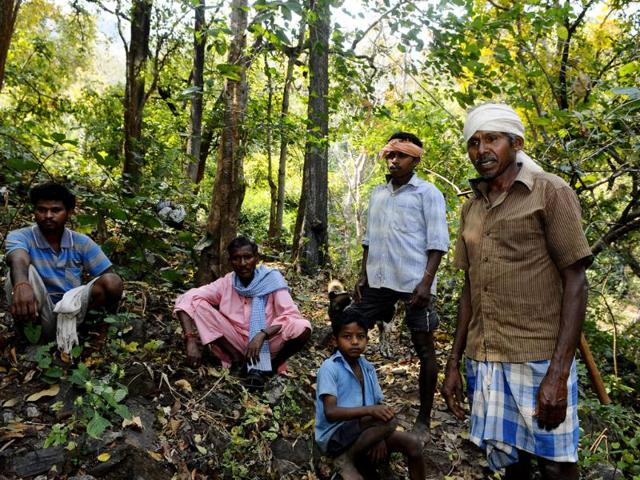 The nearby Bhilai Steel Plant (BSP) iron-ore mine had led to massive deforestation in Dalli-Rajhara, destroyed fields of grain and corn, led to land seizure, so would its mine at Raoghat be any different? For over 10 years, Badri Gawde, 38, a social worker from Antagarh, a tribal-dominated no-frills town, 20 km from the Raoghat hills and 80 from Kanker city, had been asking himself this question. Lately, he had begun to ask it a little more insistently, holding public meetings, facilitating study trips for academics, tying-up with Chhattisgarh's unruly bunch, the mine workers, and the state's two-bit village officials, the sarpanches, and thinking himself up into a leader. Why not say he was a Maoist? And they did.
Gawde's political pedigree is mixed. Ever since January 24, 2014, when he was picked up at Antagarh, and held in Raipur's Central Jail under the draconian Public Security Act, he has become, like Lalgarh's Chhattradhar Mahato, nobody's man. Naresh Thakur, a Kanker Congress leader, admits Gawde was "with the party", the state Congress chief, Bhupesh Baghel, said he was a BJP man.
The BJP, true, had also gained from Gawde's dissatisfactions. Gawde was a contender for the Congress ticket in this year's assembly polls from the Gond-majority Antagarh seat, but the party's choice of a Halba tribe candidate made the Gonds vote for BJP's Vikram Usendi at what they perceived to be a slight to the Gondwana Samaj, a socio-cultural organisation of which Gawde was vice-president.
As for his Maoist 'links', in Gawde's case, it was a foregone conclusion due to a host of other factors -- Maoists had 'been seen' at Gawde's rallies; Gawde had 'been seen' attending theirs; he did not have a 'problem' with the Maoists, and they with him; the Maoists are said to have backed the Raoghat Rail Sangharsh Samiti, so had Gawde – therefore, they had to be one.
Arrested dissent
The Raman Singh-led BJP government has a good record of fixing 'bad tribals'. Rajesh Bhaskar, the head of a Kanker-based sarpanch body, said educated tribals and "tribals with posts" had become recent targets of intimidation. To be Naxal-proof, a sarpanch these days had better be a police spy. "If you are not telling on the Maoists, or are being too assertive, you are suspect. It means you have Maoist backing," said a villager. "Ram Kumar Mandavi, sarpanch (Muragaon), Ganesh Kurgan, sarpanch (Timnar), Sonu Ram Dhuru, village official (Chichgaon), Dasrath Mandavi, village official (Pirpal), Dhannu Ram Dhuru, sarpanch (Tadoki)," lists Bhaskar, showing a petition that had been sent to the chief minister with names of those arrested from Kanker on the charge of being "Naxal supporters".

An ongoing study by Shalini Gera, Isha Khandelwal and Parijata Bharadwaj, of a Jagdalpur-based lawyers' collective, shows that sarpanch or no sarpanch, the state is not being choosy about its arrests.
"Three school boys were picked up from Tirathgarh in Bastar and presented before the media as hardcore Naxalites. Maoists in school dress makes a great story," said Khandelwal. "There seems to be no thieves or drug traffickers in Chhattisgarh anymore, anyone picked up is slapped with 7-8 cases on an average; the first FIR may complain of an attack by unknown people; after a few months when a statement is recorded, the complainant will remember all their names, the names of their villages, and even the name of the Maoist commander who is said to have led the attack and the division s/he belongs to," Their analysis of disposed cases from the Dantewada Sessions Court between 2005-2012, for example, revealed that starting from 2005, there has been "high acquittal rates in these years. The average acquittal rate of data pooled over all years is 95.7%, while individual years range from 91.5% to 98.7%. A majority of these cases were "Naxali cases." "Most cases were bogus and they don't stand in court. But that's after the accused has spent 2-3 years in jail. That's enough to break a human being," she said. "Villagers claim police stations have also become extortion dens," said Bharadwaj.
Visits to some of the 35 villages to be affected by the Raoghat project reveal considerable BSF and CRPF presence. "They serve as forces of imtimidation, to harass the local population even though the pretext is that they are here to protect them. They are here to protect the mines from the Maoists, who alongwith the local population are protesting the project," says Samantha Agarwal, a member of the Chhattisgarh Bachao Andolan (CBA), an alliance of 22 organisations that have been working with displaced people in the state.
Much like the FBI's counter-intelligence programme run for almost a decade, from the sixties to the seventies, against the Black civil rights movement or any shade of militant socialist dissent, the security apparatus, especially in Chhattisgarh has been targeting and discrediting the right of democratic dissent in the name of development or public peace. To protest and to want to negotiate with power, as Gawde and others like him have done, is to be an irrelevant, impractical, anti-modern dreamer, a voice crying in the wilderness and, therefore, purportedly somebody else's mouthpiece. The scale of arrests is massive and while the outrage around it is low key and, of necessity, invisible, it, however, points to the subterranean resistance and fight-back that is happening all over Chattisgarh today.
"They caught Badri over Raoghat. But he was not the only one protesting. He had the villages with him and that scared everybody," says Narendra Nag, a sarpanch of a village in Gawde's town. Gawde had upset too many people in the official and unofficial left, right and centre. By his stand, he was snatching the role of the opposition both from the Congress and the Maoists. "The extremes of neo-liberal policies are best carried out by the BJP but the spoils of mining in Chattisgarh are shared by both the Congress and the BJP," points out Bijay, a forest rights activist. "Gawde was turning out to be a problem for everybody."
Forced to 'Develop'
The three tribal-dominated states of Chhattisgarh, Orissa and Jharkhand account for 80% of India's high-grade iron-ore. Chhattisgarh holds 10% of the country's iron-ore. For India, that may be a key resource; for the tribal communities, it is a curse. The ore is found in areas with the densest forest cover, and contrary to claims of the government and industry, mining does not usher in prosperity for the local population. Were that so, Dantewada, one of the richest districts in terms of iron-ore deposits, would not rank 7th among the 150 most backward districts of the country as shown by a 2008 report, 'Rich Lands Poor People', published by the Centre for Science and Enviroment (CSE). In Dalli-Rajhara, the local population suffer from long-standing respiratory and anaemia problems, says Dr Saibal Jana of the Shaheed hospital. "It is only when Raoghat came into focus that the BSP started CSR initiatives like organising health camps in Antagarh. Once the mine starts, the CSR will stop," he says.
What guarantee then that Dalli-Rajhara's state or Dantewada's plight will not be replicated in the area around Raoghat? Or, will it, for the BSP, just be a case of ore-minus-the-responsibility? If land is to be acquired for Raoghat who will ensure that all the land acquisition processes are duly followed and that there are no dirty tricks?
Consider these official versions. According to its own state website on mines, there are 13 existing mines – five are iron-ore mines -- in Kanker; Raoghat will be its 14th. Collector, Kanker, Alarmel Mangai D, speaking over the phone, however, says, "There are no mines in Kanker." On being asked about Raoghat and the rumbles around its land appropriation, she says "there have been no challenges… ask the SP."
In 2013, the Chhattisgarh PUCL found that in and around the BSP's proposed mining lease area, the dreaded special police officers (SPOs) are conducting regular attacks on villagers in contravention of the Supreme Court's order in Nandini Sundar & Ors. Vs State of Chhattisgarh, 2011. In villages that are to be taken over for mining, particularly Anjrel, the local police, with the support of CRPF/BSF personnel, have been advising people to "move to Narayanpur or join the SPOs".
Keshav Shori, a social activist who had been part of a fact-finding PUCL visit to Anjrel says, legally, the government cannot take over the land. "The gram sabha, not the sarpanch, has to pass two resolutions, one of consent for takeover of forest land, and second, a resolution saying all formalities regarding the Forest Rights Act have been completed. Instead, villagers have been hit by the police on their backs and stomachs. For Raman Singh's government, and why just his, development is actually a euphemism for a military solution. The modern nation-state has no welfare-statism left... The road from Rowghat leads to Abujhmar. In 20 years there will be no Abujh Maria. Gawde was raising questions like these," he says.
Can a tribal speak?
"The Congress sidelined Arvind Netam and other tribal leaders, the BJP did that with Sohan Potai the moment he started talking of the Sixth Schedule," points out freelance journalist Kamal Shukla, who, actually lost his job with a mainstream newspaper for being critical of a state BJP minister. Bottomline: A tribal leader as pawn is a good role model. But he should not speak.

Arvind Netam, who had been a minister in two Congress central governments, and one of the most promising tribal politicians of India till the mid-1990s, has seen the fallout of backing the tribal cause numerous times. Suspended from the Congress in 2012 for backing PA Sangma, a tribal's bid for Presidency, he had managed to stop an industrial project that would kill the sal forests in Bastar by persuading Indira Gandhi, and a hydel project over the Indrawati river by persuading Rajiv Gandhi. "But 1980 was a lesson for us, we realised that no party would allow a tribal chief minister," he says. "In the MP assembly elections, which the Congress won, voting for CM was between Arjun Singh and tribal leader Shivbhanu Singh Solanki. Solanki was winning so the counting was stopped by Delhi. The person winning the elections was made deputy CM, Singh who was losing, was made the CM."
Badri Gawde was playing for much lower stakes. The problem was not what he was doing, but that he was seen doing too much. "Gawde was not even talking of an overhaul of the system, he knew his limits. But his opposition to Rowghat and other issues of everyday struggle was becoming visible," says Sukhranjan Usendi, 38, a former CPI(M) leader who now runs an independent outfit, The Indian People's Liberation Front. Usendi, like Gawde, and the infamous Salwa Judum leader Mahendra Karma, who locals called the BJP's "11thminister" -- slain last year by the Maoists -- is a product of trade unionist communist politics that peaked and waned in Chhattisgarh from the sixties to the eighties as India moved from a controlled economic model to a market-driven one.
Raoghat – pains & gains
The need for steel (its raw material is iron-ore), the mainstay of a developing economy is being fulfilled by land which inconveniently is populated by people. The 100-km-long rail line from Dalli-Rajhara to Raoghat is at present being laid on land acquired after evicting 115 families. "We don't have land patta so we've been told no member of our family will get jobs. We were promised houses but have seen no sign of it yet," says Uta Bai now staying in one of the run-down BSP labour hovels abandoned by sacked workers.
Santosh Kumar, a Dalit shopkeer at Antagarh, voices the doubts about a mine-driven development even as he says he is open to the idea. "I'm not against Raoghat, but if the land goes, their (tribals) culture goes, will a forest-dwelling tribal adjust to living in a township even with compensation? Many local youths who are ITI-trained will, however, get jobs." The myth of employment is busted by the CSE report, though. It shows the formal mining industry employed just 6.6 lakh people, between 1991 and 2004, and that the number of workers employed since have come down by 30%. The mining industry doesn't need people, it needs big machines and specialised operators to run them.
Jeet Guha Niyogi (his father Shankar Guha Niyogi, a BSP mine worker led a 14-year-long labour movement around Dalli till his murder in 1991), who now heads the Jan Mukti Morcha outfit, breaks up the employment scenario thus: "Raoghat will have 600 officers and 900 workers. If it starts, it will put further pressure on the workers at Dalli, some of whom will be shifted to Raoghat. There used to be 30,000 workers in the five mines of BSP, now there are only 2,200 permanent ones, the rest are on contract."
The opening of a mine always carries an impact, a senior official of the Dalli mines says on condition of anonymity. "Raoghat will bring jobs. Trees may be cut, but we have also planted trees… PSUs also need to look at the market, but we also serve society", he adds.
Iron-ore for just national development doesn't wash. So who is it really for? It's for China. China consumes more of Indian iron-ore than do our own domestic industries. China's share in India's exports of iron-ore has increased from about 30% in 2000-01 to 83% in 2005-6. That is an ominous portent for Chhattisgarh, a situation that the predicted slump in Chinese demand for 2014 will or can change little. The iron-ore reserves in the hills and forests of Bastar seems to have become the iron heel for people who live in them.
In Days of Destruction Days of Revolt, writer Chris Hedges and journalist Joe Sacco show how White settlers displaced and destroyed Native American land and lives in their giddy bid for power and control. It ends with the Occupy movement where a new generation of Americans began their long protest against their nation's corporate elite and oligarchs. The govt, terrified and foxed that there were no demands, first sent their police with their batons to remove them. hen they sent their PR machinery to 'understand' the protesters and effect a compromise. They failed. In Badri Gawde's case too, the government possibly feels that keeping one person in jail will scare the many behind him. Will they succeed? As I leave Raipur, a nasty little song from the sixties begins to play in my head. "Something is happening here/ But you don't understand what it is, do you Mr Jones?"