Return of Chanakya in Bihar: Nitish back after outfoxing Manjhi
Updated on Feb 20, 2015 05:38 PM IST
As senior Janata Dal-United leader Nitish Kumar prepares for a third term as Bihar's chief minister, he faces the onerous task of navigating the choppy sea of state politics before he goes into election mode within the next five months.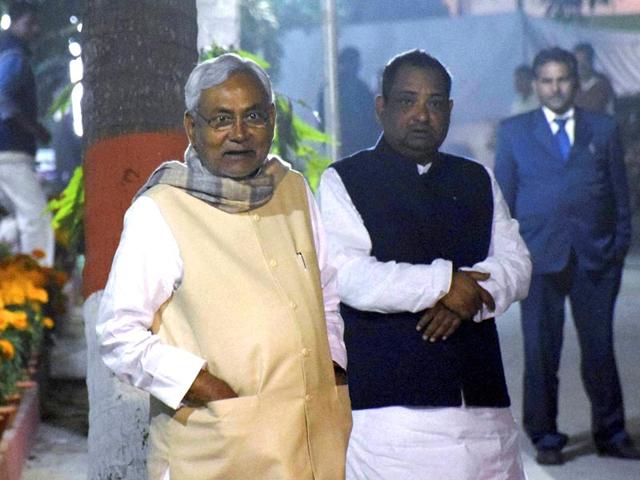 As senior Janata Dal-United leader Nitish Kumar prepares for a third term as Bihar's chief minister, he faces the onerous task of navigating the choppy sea of state politics before he goes into election mode within the next five months.
Kumar's comeback may not have been in doubt till the BJP joined the fray and RJD legislators became restive about voting against Jitan Ram Manjhi, a Mahadalit whom Kumar had put in charge after resigning as chief minister in May last year following the JD-U's dismal performance in the Lok Sabha polls.
But Kumar, known as Chankaya for his carefully planned political moves that even put Rashtriya Janata Dal chief Lalu Prasad Yadav in power in 1990, is known to work secretly. Dinner and luncheon politics over the past two weeks saw to it that even dissenters within the JD-U fell in line and openly declared support for Kumar.
The denouncement came on Friday morning, when Manjhi resigned shortly before a trial of strength in the state assembly.
Kumar's rise to political reckoning happened in 1994, when members of his Kurmi caste organised a huge rally at Gandhi Maidan. His speech shot him to prominence as he made a calculated move to bring together OBCs by taking over the social justice movement.
He correctly guessed the other OBC groups were restive under Lalu Prasad Yadav's regime and wanted to break away. However, the move would not have succeeded if such a mood was not knit into a broader mosaic of castes and firmed up to present a formidable force.
It was, however, closer to 2000, when public opinion firmly turned against Lalu Prasad Yadav, that Kumar started his first concrete political move to give shape to his Samata Party and re-engineer social combinations.
He was sworn in briefly with the thinnest of majorities, which he lost within a week and then resigned to spend five years in political exile. But by the beginning of 2005, he was ready. A graduate from the Bihar Engineering College in Patna, Kumar's social engineering skills saw him knit a welter of groups with the upper castes arraigned against Lalu Prasad Yadav, use their anger and join them with OBCs opposed to Yadavs and extend the grouping to embrace middle class and urban groups.
Kumar won in 2005, when his JD-U joined hands with the BJP to form the formidable NDA coalition that fodder scam tainted Lalu Prasad Prasad. The success was repeated heavily in his favour in 2010, with the JD-U returning with 119 seats and the BJP getting 91, establishing the latter as a major force in Bihar.
Kumar, born into the family of a 'vaidya' or Ayurveda doctor at Bakhtiarpur on March 1, 1951, is returning to Bihar's top spot just before he turns 64. His vision for Bihar is what defined him as a different politician. He was not the man to stand inefficiency or disorder. He worked meticulously for up to 18 hours a day, realising that working with efficient bureaucrats is a better way to tone up the delivery of services.
He essayed a series of reforms – toning up schools , increasing enrolment of students, recharging dead hospitals, building roads and bridges, empowering women, creating a Mahadalit group by segregating 21 of the 23 castes for special treatment and doles, reserving 50% seats in panchayats for women – and emphasizing inclusive growth on an avowed secular foundation. It paid off.
Kumar's model with emphasis on growth and healthcare was hailed worldwide as Bihar's economy rebounded from virtually zero to a 21% growth rate. Real estate prices zoomed, a spate of central educational institutions came up and new investment interest pitch-forked Bihar from a laggard state to a rapidly developing state. The growth level of 14% was maintained from 2006 to 2014, till Kumar resigned.
The growth established Kumar as a national player and he was often compared to Gujarat strongman Narendra Modi. Kumar had famously remarked that while Modi had never handled any government at the Centre, he had done so several times and was better equipped for the top job at the Centre.
That competitiveness proved to be the undoing of Kumar, as the NDA moved to elect Modi to lead the 2014 charge for power in Delhi. Kumar steadily lost the plot after that, being wiped out in the May 2014 polls. He resigned and made Manjhi the chief minister.
Kumar did climb back with an alliance with the Congress and RJD to win six of 10 seats in bye-polls in August 2014 but his alliance with Lalu Prasad Yadav and others to get the socialists back on one platform has not touched a chord with his own group.
However, his consolation lies in the fact that social groups which represent the JD-U, RJD , Congress and the Left together may weigh as much to disrupt the BJP in Bihar when elections come up, though the expulsion of Manjhi, who has emerged as an icon among Dalits, threatens all political groups.
Personalise your news feed. Follow trending topics