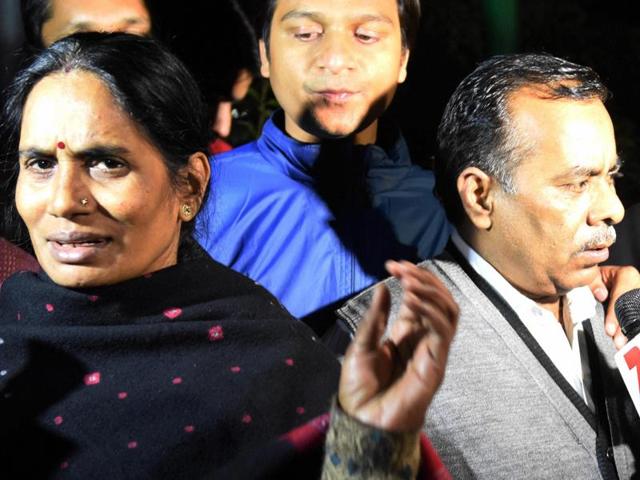 Satisfied but sad: Dec 16 victim's mother on passage of juvenile bill
The parents of the December 16 gang rape victim watched the debate on juvenile justice bill from the visitor's gallery in the Rajya Sabha. They said this will deter juveniles from committing such crimes against women.
UPDATED ON DEC 22, 2015 10:49 PM IST
Welcoming the passage of the long-pending juvenile justice bill in Rajya Sabha on Tuesday, the parents of the December 16 gangrape victim said it will deter juveniles from committing such crime against women even though they rued that their daughter has been denied justice.
"Although we are satisfied that the amendments have been passed as these will help victims of heinous crime get justice, there is grief that our daughter was denied justice. The juvenile convict who was the most brutal was set free despite our repeated pleas and demands," said the victim's mother outside Parliament.
"This was a good thing that happened. Our efforts at least produced some results. By releasing the juvenile convict in this case, authorities had given out a wrong message but the new law will deter juveniles from committing heinous crimes against women," said the victim's father.
The parents watched the proceedings from the visitor's gallery in the Rajya Sabha throughout the day as lawmakers debated the bill.
They had met minister of state for parliamentary affairs Mukhtar Abbas Naqvi and Congress vice-president Rahul Gandhi in the morning seeking their support to ensure that the bill gets passed.
The parents along with hundreds of youths and activists have been protesting at Jantar Mantar and India Gate for the last three days demanding passage of the bill and death penalty for the rest of four convicts in the gangrape case. They were also detained by police for holding demonstrations.
Delhi Commission for Women (DCW) chairperson Swati Maliwal tweeted, "India failed to give justice... But once again her sacrifice led to reform for others. JJ amendments finally passed in Parliament."
Earlier, during the day, she had appealed to BJP president Amit Shah and Congress president Sonia Gandhi to get the bill passed in the current session of Parliament.
Nobel Peace laureate and child rights' activist Kailash Satyarthi hailed it as a major legislative reform measure towards holistic child protection and development.
"Whether it's a crime by a child or on a child, the focus has to be on reform and restitution and not just deterrence. Care and protection must be provided to all children up to the age of 18," he said, adding that the protection framework provided under this law is extremely robust.
On Monday, the Supreme Court had dismissed Maliwal's plea against the release of the juvenile offender, saying "There has to be a clear legislative sanction" in this regard.
Close