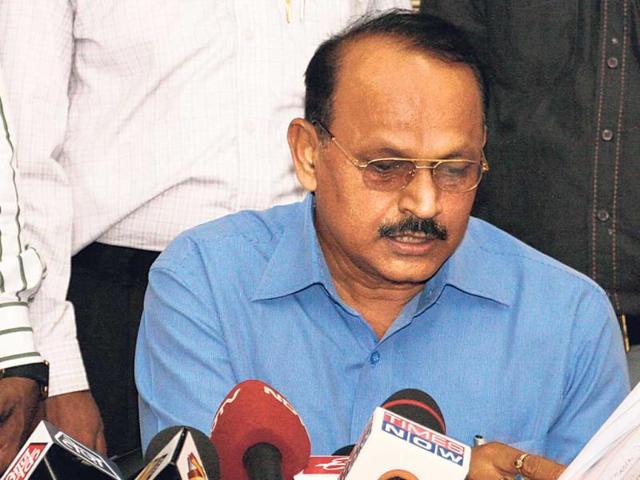 Sena says slapping rape charge is now a 'fashion', backs cop Paraskar
The editorial in party mouthpiece Saamna said it has become "fashionable in the hi-fi society" to level rape charges and sensationalise the issue even when the person is just an accused. HT Poll| Do you condemn Shiv Sena for saying alleging rape has become a 'fashion'?
UPDATED ON AUG 02, 2014 10:28 PM IST
The Shiv Sena on Saturday came out in support of senior Indian Police Service officer Sunil Paraskar, who has been accused of rape by a Mumbai-based model, saying he should not be put into the dock unless the charges levelled against him are proved.
The 26-year-old model had lodged a complaint against director general of police Paraskar last month claiming that he had sexually assaulted her and molested at two places in Madh Island in Malad and a flat in Navi Mumbai.
The editorial in party mouthpiece Saamna said it has become "fashionable in the hi-fi society" to level rape charges and sensationalise the issue even when the person is just an accused.
Read: Police to conduct polygraphic test on DIG Paraskar

"The truth in Paraskar case will be out at the right time, but till then he shouldn't be dragged into this. At least it is expected that people from the police force handle this issue with care," it says.
The editorial urges that a "media trial" which has already decided that he is guilty should stop.
"Paraskar has been in the police service for a very long time and has had an excellent record as an IPS officer. It is inexplicable how an individual is turned into a villain overnight by a complaint from a model," the piece said.
It said it is necessary to look at the background of the model and how a sweet relationship turned into 'rape'.
The editorial also questioned the delay in filing the case saying that a woman who has been subjected to such a torture will not able to wait for so long to seek justice.
"The complaint came after six months. So did it take her six months to realise," it asked.
The model had alleged that the molestation and rape took place between October and December 2013 when Paraskar was posted as additional commissioner of police, North region, Mumbai.
The trend of false complaints will put all womenfolk in the dock, it said.
Yuva Sena chief Aaditya Thackeray tweeted that the paper has not taken sides.
"There isn't a question of siding anyone but media trials are wrong," he posted on Twitter.
In another tweet he said, "However, it is imp that trials r run by the courts and NOT media. Media trials lead to false impressions, even if person is acquitted later".
Political parties and activists criticised the Sena for its "mindset". Even the BJP, the Sena's ally, distanced itself from the remarks. "It takes a woman a lot of guts to register a complaint, especially if she has been molested or raped and to suggest that she does it as a fashion statement is ridiculous. It calls for a change of mindset. It is clearly something that I condemn," BJP spokesperson Shaina NC said.
The Congress termed the Sena editorial as "very shameful" and disrespectful of women.
NCP spokesperson Nawab Malik said no newspaper should come out with an opinion on the issue which is still in court. "The charges levelled are serious and we should wait for the court to give its final verdict," Malik said.
Nirmala Samant Prabhawalkar, activist and member of the National Commission for Women, said: "It is not the prerogative of political parties to go out of their way to defend a police officer and be judgemental. This is unfortunate. It is for the defence lawyers of the accused to put up the case and the judiciary to decide the outcome."
Reacting to the editorial, the model told PTI that a comment should not be made in such cases without knowing the facts. "This matter is in the court, no one should be commenting in sensitive matters like this without knowing all the facts," she said. "Yes, it took me time to go to the police. He was an additional commissioner at the time, I knew [about] his power. Even today, he is taking support from the Shiv Sena and others. I have all the emails in which I told him what he has done to me and there was no response from his end."
The 57-year-old DIG has been booked under sections 376(2) (rape by a police officer), 376(C) (intercourse by superintendent of jail, etc) and 354(D) (stalking) following a complaint by a model.
Paraskar, who had filed an anticipatory bail plea before a sessions court, had been granted interim protection from arrest till July 31 which was on Saturday extended till August 5.
Read:
Close