Sena leader offers Rs 1 lakh to slap Aamir, party says not official view
Updated on Nov 26, 2015 07:55 PM IST
The Shiv Sena on Wednesday announced a cash reward of Rs 1 lakh for anyone slapping Bollywood superstar Aamir Khan.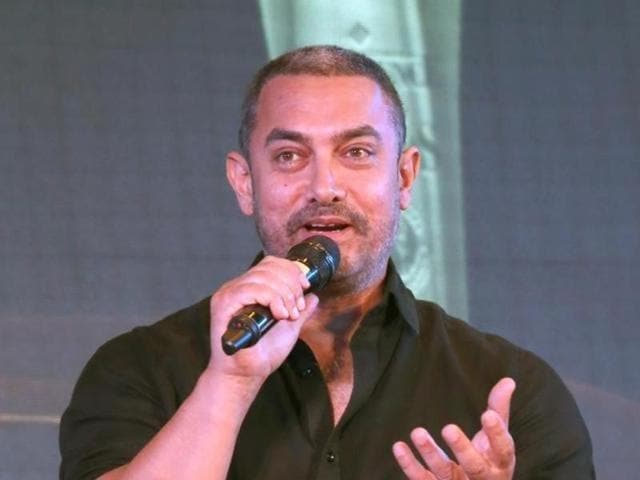 A leader of the Punjab unit of the Shiv Sena has offered Rs 1 lakh to anyone who slaps Bollywood actor Aamir Khan for his comment on 'growing intolerance' in the country. The Shiv Sena, however, said on Thursday the remark was not the official view of the party.
"Any person who slaps Aamir Khan will be rewarded Rs 1 lakh by the Shiv Sena. This is important because no one living in our country should dare to say anything against India… Anyone from the hotel staff or the film crew can slap him and take the reward," Punjab Shiv Sena chief Rajeev Tandon said on Wednesday.
The Shiv Sena said it had nothing to do with the comment made in Ludhiana.
The announcement by Tandon came as Shiv Sena workers earlier protested near a 5-star hotel in Ludhiana where Khan and his crew have been staying during the shooting of the movie 'Dangal'. The protesters burnt Khan's posters and disrupted traffic outside the hotel.
"The hotel employees have been told to remain extra vigilant to avoid any suspicious person reaching near Aamir's room," a hotel executive was quoted by The Indian Express as saying after the Shiv Sena's announcement.
Read: City NGO demands apology from Aamir Khan for 'unsafe India' remark
At an awards event in New Delhi on Monday, Aamir spoke of "growing despondency" that he said he had felt in India for the last six to eight months. "When I sit at home and talk to Kiran, for the first time she said, 'Should we move out of India?' Now that's a very disastrous and a big comment to make to me," he said.
Trying to put to rest the huge row over his comment, Khan said on Wednesday he and his wife loved India and had no intention of leaving the country.
With protesters and the media following him after his remarks, Khan's security has been stepped up by the Punjab Police.
"Policemen have been deployed at the hotel. A team of quick reaction team is also keeping a close watch," Ludhiana assistant commissioner of police (ACP) Rupinder Kaur Saran said.
The actor avoided the media on Wednesday. He was seen leaving the hotel and arriving at the shooting venue in an SUV. He earlier returned to Ludhiana on Tuesday to resume the shooting for the movie, which is based on a wrestler's life.
The actor had to leave for Mumbai around a week back after he collapsed on the film set and was advised rest by doctors.
Read: Aamir Khan: Proud to be Indian, don't need anyone's endorsement
Personalise your news feed. Follow trending topics