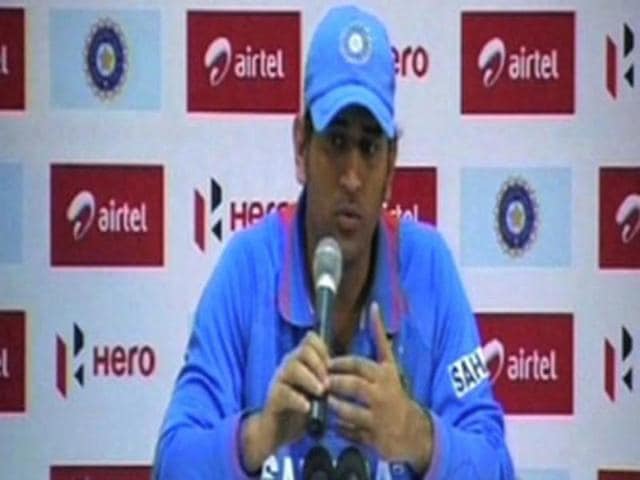 Smiling through the pain barrier
How did Dhoni find the time and inclination to indulge in such a frivolous activity when the whole country was furiously debating whether his time was up as skipper? Subhash Rajta writes.
Hindustan Times | By Subhash Rajta
, Kolkata
UPDATED ON JAN 01, 2013 03:15 PM IST
MS Dhoni didn't look too pleased with the width of the makeshift goalpost — plastic cones placed about 10 feet apart — for the warm-up football game. And when a goal was scored, he couldn't hold himself back and walked between the cones, placing one foot after another to measure the distance. Another goal and he was at it again.


It was more funny because it was his team that was scoring, against the side that appeared to be led by Gautam Gambhir.
How did Dhoni find the time and inclination to indulge in such a frivolous activity when the whole country was furiously debating whether his time was up as skipper? India had lost the first T20 to Pakistan in Bangalore, and he was being ripped apart for his selection of the final XI and over a few other decisions. Sunil Gavaskar went to the extent of saying that he should take a break as captain from all three formats.


Unflappable
Yet, here was this man, fooling around, smiling more than he usually does and even cracking jokes. "Well, the smile comes naturally, especially when I know most of the questions that would be asked of me when something goes wrong," joked Dhoni. At other time, he spoke about "giving stools to shorter batsmen to handle the seven-footer Mohammad Irfan" and how "the rule allowing two bouncers per over made no use or sense to the Indian attack".
So, is he completely oblivious to and unaffected by the criticism that is getting sharper by the day? His sometimes placid and otherwise smiling — never frustrated or angry — face might lead you to believe that, but his greying temples tell a different story. "It's good that I am the punching bag of the side, it takes pressure and attention off others in the team," he said on Sunday, after another defeat, trying to make light of the constant criticism.


Business Like
On a more serious note, however, he seemed aware of the seriousness of the situation and his responsibilities. "As a captain I am responsible for the decisions we take on the field and I have the responsibility to explain them if something goes wrong. But as far as criticism goes, that's not something in my control. We could only look to work on where we are weak, where we have made mistakes and try and improve."
Fair enough. But doesn't he find any merit in the suggestion that he's overburdened and should relive himself of some responsibilities? In the last one-and-a-half months, he has squared up against four different skippers, and has played all three formats. England will be here for the ODIs before this series ends. Australia arrive next, and then comes the draining IPL.
Doesn't he feel the need to take a break? "Well, sometimes I am not even aware which day it is, all I know is there's a match around the corner. There's a chance to get injured when you play too much. But on the whole I enjoy playing."
How he struggled with cramp in Chennai showed he could be close to the breaking point. And if he does break down anytime in the near future, it would hurt the already struggling India real bad. There may be a lot of merit in the criticism of his captaincy, but there's no doubt about him being one of India's best batsmen in the shorter formats. India need him more as batsman-keeper than as skipper. And one doesn't need to look beyond Chennai to acknowledge that.

Close