So-called row with Delhi govt matter of Constitutional interpretation: Amit Shah
Bharatiya Janata Party chief Amit Shah on Tuesday highlighted the achievements during the first year of the NDA government, saying it had restored people's pride and faith in the Prime Minister's Office.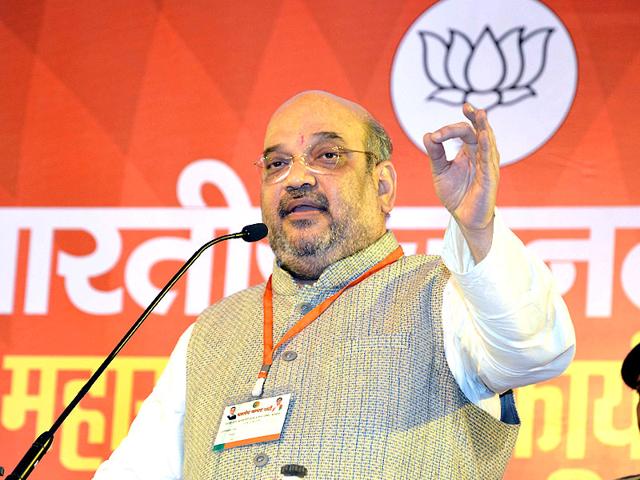 Updated on May 26, 2015 04:16 PM IST
The NDA government is determined to bring back black money to the country, BJP chief Amit Shah said on Tuesday as he highlighted the party's achievements during its first year in power.

The National Democratic Alliance (NDA) had restored people's pride and faith in the Prime Minister's Office, he said while addressing the media in Delhi. The government led by Prime Minister Narendra Modi is proactive and without any trace of policy paralysis, he added.

"We have enacted a law on black money and we are determined to get the black money back," Shah said.

Taking a dig at the opposition, he asked what the Congress had done to bring back black money to the country.

The NDA government has also maintained a strong stand on corruption and not even the opposition can level allegations about any scam against the "Modi Sarkar", Shah said.

Shah reflected on how the NDA has helped boost the country's federal structure.

"Despite the BJP not having power in several states in eastern India, we worked for the development of the region as we had promised," he said.

Moreover, Shah said, Modi's interaction with world leaders has increased "India's global acceptance".

Shah claimed the NDA had also boosted economic development and taken steps to provide succour to farmers who suffered financial losses due to crop damage. Electricity production in the country had gone up by 8.6%, he said.

"Fiscal deficit is under control, trade has grown and foreign investments are at their highest in 10 years," he said.

"We have given relief to farmers in distress. We have increased the amount of relief by 50%."

Responding to a question on the tussle between Delhi chief minister Arvind Kejriwal and Lieutenant Governor Najeeb Jung and the Centre's role in the division of powers between the two, Shah said, "The so-called row with the Delhi government is not a row. It is a matter of interpretation of the Constitution."

Shah also referred to upcoming elections in Bihar and said the BJP is confident of forming a government with full majority in the state. "Not just Bihar, every election is a litmus test for me. We're taking the elections in Bihar very seriously," he said.

The BJP, which last year became the first party to secure a majority in the general elections in three decades, has drawn up extensive plans to mark the completion of its first year in power.
Read
PM Modi's letter to nation: NDA govt rejuvenated economy, acted to tackle corruption in 1 yr
Chidambaram says Modi govt repackaged UPA's policies
One year of Modi govt: Ambanis down in stock market, Adani up
Close Story
Personalise your news feed. Follow trending topics