Subhas Chandra Bose: West Bengal's hero who cannot die
Hindustan Times |
, Kolkata
Avijit Ghosal and Snigdhendu Bhattacharya
Jan 24, 2016 12:03 PM IST
Bengalis have loved nothing more than a tragic hero. But none can hold a candle to Subhas Chandra Bose--man, patriot, mystery.
Whether it's in literature, movies or music, Bengalis have loved nothing more than a tragic hero. Two timeless examples of this fondness are Ravana in Michael Madhusudan Dutt's Meghnad Bodh Kabya and Devdas in Sarat Chandra Chatterjee's novel of the same name.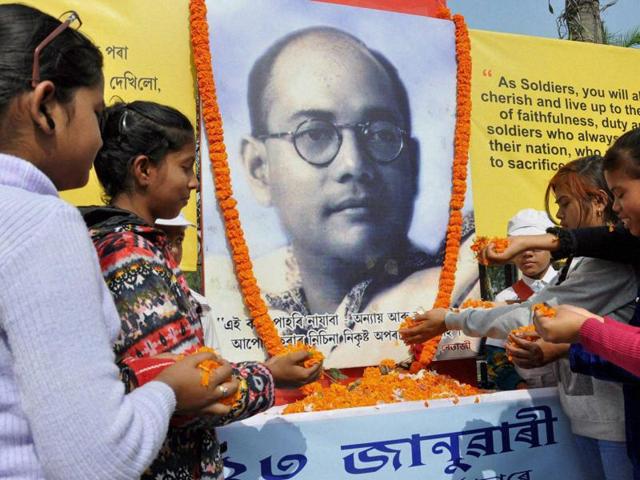 However, loved as these characters may be, neither can hold a candle to Subhas Chandra Bose – man, patriot, mystery. And he doesn't even have to be fictional to hold them in awe.
It comes as quite a surprise that Bengalis, a largely intellectual and art-loving people who don't even have an Indian Army regiment to their name, have produced some of the most militant leaders of India's struggle for freedom: Rash Behari Bose, Bagha Jatin, Masterda Surya Sen and Aurobindo Ghosh. Besides this, the state was also one of the biggest centres of armed movement against the British Raj, having produced two of India's fiercest secret societies – the Anushilan Samiti and the Jugantar Dal.
And leading all of them from the front is Bose, a man who took on the British head-on, then vanished from the scene one cold winter morning – never to return again.
A brilliant student who turned down a lucrative career to devote his life to liberating India, Bose rose to become one of the most popular leaders of the Congress in the late 1930s. A lot happened since the day the rising hero defeated Mahatma Gandhi's candidate in the Congress' presidential election – he forsook the comforts of an elite political class to take up arms against the enemy, escaped dramatically from house arrest, and eventually went underground in an effort to raise men and materials in the stormy conditions of the Second World War.
Read | PM releases Netaji files; Mamata wants 'leader of nation' title for Bose
Through sheer endurance, he raised an army to fight the British – becoming a paragon of communal harmony in an army comprising people from every province and religion while the country burnt in communal hatred. More importantly, he ignited a dream of fighting fire with fire, and throwing the British out of India through sheer military force. Bose had everything one would need to turn into a cult figure.
No wonder, then, that the man continues to be Bengal's biggest political icon even 75 years after his disappearance from Kolkata.
There are few corners in Bengal where one doesn't find local clubs named after Bose – whether it's the Netaji Sangha or the Subhas Sangha. He finds reflection on the nameboards of everything from roads to housing colonies and sweet shops, and lakhs of Bengalis have christened their children after him in the second half of the twentieth century.
Read | Only report to challenge Netaji's death theory was 'flawed'
And now, the Kolkata police museum has joined the city's list of tourist haunts by displaying recently declassified files on Bose. It has been attracting hordes of visitors every day since September 18, 2015, the day the files were thrown open for public consumption.
Kaushik Maitra, who runs Sulekha Works – a homegrown brand established by his grandfather and named by Gandhiji himself – believes it was Bose's warrior-like spirit that endeared him to the masses. "The Lower Gangetic plain is a land that has bred soft qualities in its inhabitants. The fertile soil and the moderate climate have combined to produce soft qualities of the head and heart. The very fact that a man sprang up from this land to confront the world's biggest colonising force on the battlefield makes Netaji's appeal timeless, especially among the youth," he says.
Dipankar Dasgupta, a former professor at Indian Statistical Institute, says Bengal respects Bose because of his political stature in the then Indian politics. "The single point that continues to make Bose a hero in this state after so many years is the dream of having a Bengali as the principal decision-making individual in Indian politics in the post-independence era."
Read | Divide in Netaji's family over Anita Bose Pfaff's air crash assumption
And then there are others who believe that Bose attained his place on the pedestal by giving people exactly what they wanted – hope in an age of despair. "He was the last hero from Bengal who assumed national and even international stature. But his relevance is not peculiar to Bengal. Unlike other political stalwarts such as Nehru, Netaji remained untested in governance and held the promise of doing great things for the country – apart from his great role in the freedom movement," said Sibaji Pratim Basu, a political analyst.
In fact, there were many who believe that the partition of Bengal – even that of India itself – could have been prevented if Bose were still around. After all, the man was known to enjoy the trust of both Hindus and Muslims.
Bose's fan-following is not restricted to Bengal alone; his name sparks off nationalist emotions across India. At a conference in 2014, National Security Advisor Ajit Doval said Bose was the main reason for Britishers exiting the country. "It was because of Subhas Chandra Bose and the rise of Indian National Army that the British thought it was better to quit India than be driven out… it was because of the spark that Subhas Chandra Bose created," he said.
In fact, for nearly half a century since his disappearance on January 16, 1941, many held on to the hope that Bose was still alive and would return one day. "Netaji's popularity is in no way restricted to Bengal. I have travelled to many parts of the country, and have seen that Netaji is even more popular in Punjab and parts of South India than in Bengal," said West Bengal chief minister Mamata Banerjee on the eve of the 75th anniversary of Netaji's 'great escape' from Kolkata's Elgin Road home, where he was placed in house arrest.
Ask filmmaker Shyam Benegal, who created a biopic titled 'Bose: The Forgotten Hero' on the national leader, and he would say that it was Netaji's act of plunging into an uncertain life and embarking on a journey that few would dare undertake that turned him into the enigma he has become. "Netaji is a one-of-its-kind leader in Indian political history," says the man behind cinematic classics like 'Ankur'.
Hence, it does make sense for politicians – whether it's West Bengal chief minister Mamata Banerjee or Prime Minister Narendra Modi himself – to try and gain some political mileage from Bose's legacy. Now, while it's debatable whether there was any ulterior political agenda behind declassifying the Bose files, it has been proved yet again that the patriot's story continues to be the political potboiler it once was.
In The Discovery of India, Jawaharlal Nehru wrote that India is most truly national when it is international. While the manifestation of this spirit was exhibited by Tagore in literature, Vivekananda in religion, Ravishankar in music and Ray in films, nobody displayed it like Bose in the world of politics – especially when one takes the constraints of a colonised nation into account.