The rules apply to everyone
Updated on Aug 27, 2012 10:10 PM IST
Arvind Kejriwal has the right to protest, but he also has an obligation to follow the law.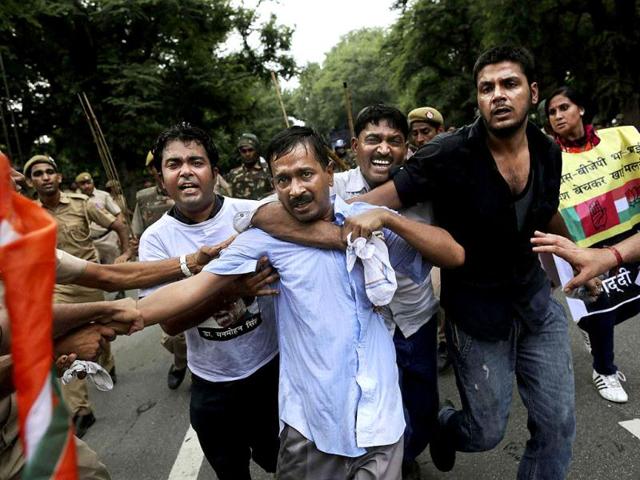 It is not uncommon for those protesting against the sins of omission or commission by governments to make themselves heard in prominent places. Indeed, we have witnessed many such demonstrations across the world, be it by students protesting hikes in fees as in England or the excesses of profligate stockbrokers and bankers as in the Occupy Wall Street one. In India too, we are no strangers to this phenomenon. We have had protests on all sorts of issues from the price rise to, more recently, corruption. And this, indeed, is the role of civil society — to keep the government of the day on its toes by reminding it vociferously of its duties. But, when a civil society group has clearly delineated its intentions to metamorphose itself — buoyed by the support it has got — into a political formation, then perhaps it should do things differently.
The India Against Corruption organisation which protested in many parts of the capital on Sunday seems afflicted with something of an identity crisis. Its leader, and leading light of the Anna Hazare campaign against corruption, Arvind Kejriwal seems to have become more of a student politics leader than the future head of a political formation. He and his followers decided that they must gherao the homes of the prime minister, Congress president and BJP president. Nothing wrong with that in principle, we reckon. But then the police, too, have every right to insist that these areas, given their high security status, cannot be approached beyond a point. And Mr Kejriwal, as the future leader of a democratic political party should have understood that everyone has to follow certain rules and regulations. When his supporters deflated bus tyres, public property in our eyes, and breached barricades, the police were bound to take action. Now, he accuses the police of brutality. This is taking things a bit too far. He has every right to form a political party but then he also has an obligation to take the lead in observing the law.
Many people, fed up with the present system, must be far more interested in ascertaining the roadmap that Mr Kejriwal has for the nation. After all, he cannot go on reiterating what is wrong with the system unless he tells us what he is going to do to put things right. Kiran Bedi, his once close associate in the Anna movement, has made it clear that she is not going to attack the BJP. Fair enough, we now know where she stands. So, we are sure that as soon as he demonstrates that he is an equal opportunities critic of current political formations, Mr Kejriwal will tell all his supporters and millions of Indians how to make democratic politics really work. For those who braved the rains and the wrath of the police, this will make their efforts seem worth it. And for the rest of India, a chance to see what alternatives the political system is throwing up.
Personalise your news feed. Follow trending topics