Touring states, in a truck full of books, to promote reading
Hindustan Times |
, Indore
Nida Khan and Ritesh Mishra
Jan 31, 2016 07:23 PM IST
It's not fiction-Indore residents have a truckload of books to read from.
It's not fiction-Indore residents have a truckload of books to read from.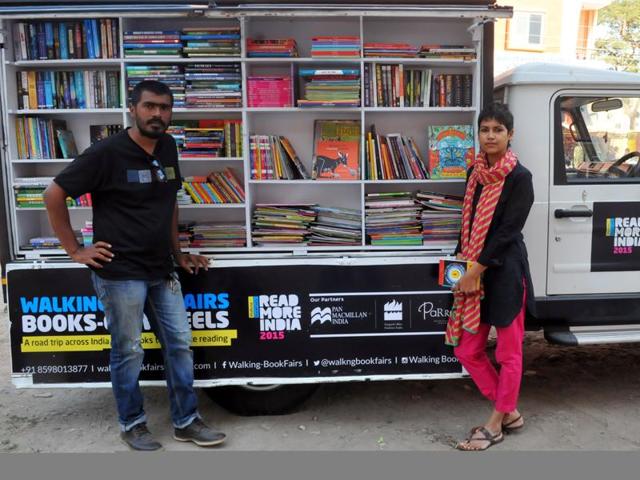 In a truck loaded with more than 4,000 books, a couple has reached Indore to kindle reading habit in people.
The two, Shatabdi Mishra and Akshay Routray, kicked off their journey from Odisha, covering more than 10,000 km and 10 states to reach the city on Saturday.
"We started this journey to encourage reading among people. As we felt that a lot of people in small cities and villages don't have access to books and any other reading material," said Shatabdi Mishra who quit a career in marketing to pursue her passion for books.
The collection ranges from fairy tales to the latest bestseller by Jeffrey Archer.
They let you browse through the books, read for as long as you wish.
The truck, in Indore till Sunday, has been a crowd puller.
"People are free to walk in to the truck and read books for as long as they want to. We don't charge them any fees whatsoever. For those who want to purchase something from us we give them a flat 20% off," said Mishra.
In their journey, which began in December 2015, they are promoting a campaign -Read more, India. And their journey is bankrolled by three publishing houses.
"We would often feel that people are losing interest in books these days. Our entire effort was to improve this count and ratio," said Akshay Routray, who worked at a publishing house before quitting his job to start with this campaign.
Mishra and Routray are off to Gujarat on Sunday and plan to cover 20 states before they can close the chapter.