Displaying acumen, Zaheer spearheads Delhi Daredevils' turnaround
Updated on Apr 26, 2016 07:52 PM IST
Very few seamers have led teams in international cricket but the ones who have, the knowledge required to outthink the opposition was illustrated in their careers.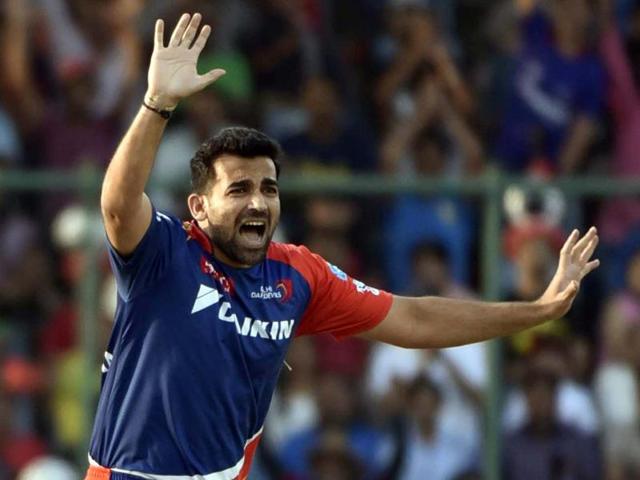 Barring Delhi Daredevils opening game against Kolkata Knight Riders – in which the hosts thrashed them by nine wickets – the Daredevils have made a quick turnaround. Under the experienced Zaheer Khan, they won the next three games and are third in the table behind Kolkata and Gujarat Lions.
There is a stark difference in the way the side fared in the last edition, and credit goes to Zaheer for the way he has led the side.
Very few seamers have led teams in international cricket but the ones who have, the knowledge required to outthink the opposition was illustrated in their careers. Wasim Akram, Imran Khan, Kapil Dev, Ian Botham, Courtney Walsh are a few, and Zaheer is the newest addition. In leading Delhi, Zaheer has put his learning into use and the results are encouraging.
He has managed to bowl a few defining overs so far, especially against Kings XI Punjab and Mumbai Indians, but it is his field placements and strategies which have played a key role in the team's success.
Against KKR, he had just 98 to defend, but stepped up in the next three games. Against KXIP, his changes in bowling and field placements were evidence of his attacking mindset. With Manan Vohra and Murali Vijay opening the batting, he brought on left-arm spinner Pawan Negi with the new ball, giving him protection at the mid-wicket boundary and urging the batsmen to clear the off-side on a slow Kotla wicket.
Vohra would have fallen but Zaheer dropped the catch at cover. The skipper then introduced Amit Mishra against Shaun Marsh and David Miller, excellent players of spin. Having packed the leg region for Marsh, Mishra was asked to flight the ball and let the batsmen have a go. Marsh premeditatedly jumped out to go over cover but was deceived and stumped.
Zaheer welcomed Miller with a slip and short leg. Mishra was asked to be as straight as possible and the leggie trapped Miller. Zaheer knew Glenn Maxwell plays the slog well and gave Mishra cover on the leg. With a slip, Maxwell wanted to clear cover but holed out to Carlos Braithwaite at long off.
"Zak's (Zaheer) fields are interesting. I don't know where he gets them from, but they seem to work and our bowlers love being captained by him as he lets them bowl the way they want to," said opener and wicketkeeper Quinton de Kock after his century against Royal Challengers in Bengaluru.
A similar approach was adopted against Mumbai on Saturday in Delhi. Zaheer put a slip in place to urge Ambati Rayudu to go over the vacant off-side region. As he jumped out, Mishra fired in a googly. Zaheer knew Jos Buttler plays the reverse sweep well so he put in a slip. Buttler wanted to play on the back-foot as the ball was turning, but Mishra fired in another googly to end his stint.
"The difference is in execution. Unfortunately, we missed him in the first half of last season, otherwise he could have played an important role for us," said JP Duminy.
Mishra once said the brief to him and other bowlers from mentor Rahul Dravid was to attack without thinking about runs. Against RCB in Bengaluru, Zaheer's brief to Mohammed Shami was to bowl quick and hit the deck hard. Deep square-leg was in place and he waited for the batsmen to play the pull. Eventually, Shane Watson fell in the trap and his wicket broke RCB's momentum.
Zaheer has also used Chris Morris well with the old ball. The South African can generate pace and Zaheer is aware that his yorkers are difficult to scoop or pedal. Even Mumbai's Rohit Sharma had no shot to offer on Saturday.
This is not the first time Zaheer is leading a side. In the 2013-14 Ranji season, he led Mumbai as stand-in-skipper for five games. He won three matches but lost the final against Maharashtra. The Daredevils are a happy team and are hoping that their skipper stays fit for the rest of the season.
Personalise your news feed. Follow trending topics