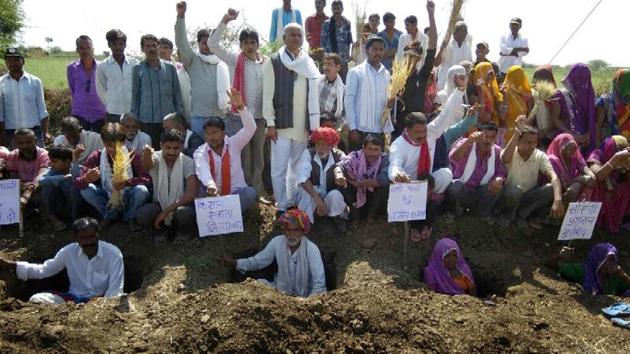 After Jaipur, Bundi farmers bury themselves in pit demanding water
Farmers in Bichdi village are demanding canal water for irrigating Rabi crops.
UPDATED ON FEB 22, 2018 10:20 PM IST
Taking a cue from farmers in Jaipur, who buried themselves in pits to protest land acquisition, farmers in Bundi's Bichdi village on Thursday got into pits to demand canal water for irrigating Rabi crops.
The village is located at the tail end of the canal network of Chambal command area. Five farmers, including two women, buried themselves in 3-ft-deep pits.
Farmers in Jaipur's Ninder village organised pit protest in 2017. The Bichdi village called their protest 'zameen samadhi' to demand canal water for their drying crops.
Satyanarayan, a villager sitting in the pit said, "We have raised the issue of canal water, that had problem reaching this village, but when the administration turned a deaf ear, we were forced to sit on Zameen Satyagraha."
Former zila pramukh of Bundi, Mahaveer Meena said that the Command Area Development (CAD) authority is being partial in releasing canal water. Affluent farmers are getting the benefit of the canal network while the tail end farmers are being denied.
Superintendent engineer of the Left Main canal of the CAD, Surendra Bijawat said, "The canal water is provided to the villages as per the rotation policy. Bichdi village received canal water earlier this month, but if farmers need more water, then canal water will be provided as per the availability".
Close