Baby girl found on railway tracks in Barmer, finds home in Sweden
The family court has allowed a single woman from Sweden, Elin Kristin Eriksson, to adopt the baby.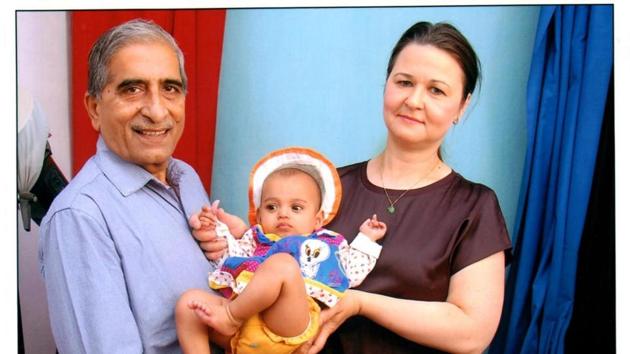 Updated on Jul 18, 2018 10:17 PM IST
Hindustan Times, Jodhpur |
Dinesh Bothra
An 11-month-old orphan baby girl, who was abandoned on the railway tracks in Barmer on August 16, last year, has found a home in Sweden.
The family court has allowed a single woman from Sweden, Elin Kristin Eriksson, to adopt the baby. The baby will be in Elin's lap on July 22.
The newborn baby had been left by her mother on the railway tracks. The railway police hospitalised the newborn in Barmer and she was referred to Jodhpur as her condition was serious. After her health improved, doctors at the Umaid Hospital, Jodhpur, handed her over to the Navjeewan Sansthan (Foundling Home). The baby girl was named Kajri by the home.
Rajendra Parihar, the managing trustee of Navjeewan Sansthan, said that when Kajri was brought to the home she weighed less than one and a half kilos. "Later, her health improved. Such children are in the special-needs category and can be adopted after following the rules and regulation laid down by the Central Adoption Resource Authority (CARA)."
Parihar said that a few months ago, 45-year-old Elin expressed her desire to adopt Kajri. "Elin is a nurse by profession and takes care of children with special needs. She wanted to adopt a child. After searching online, she decided to adopt the baby girl as she likes Indian culture," said Parihar. He added that Elin contacted the Canadian Adoption Agency, who told CARA about her.
After verification of Elin's background and documents, CARA shared information about orphans in the special need category, which included Kajri. Elin agreed to adopt Kajri and on January 23 submitted the application papers formally, complying with the international rules and regulation.
Parihar said that after receiving a go-ahead from CARA, an application was filed for the approval of the adoption in the Jodhpur's family court, which was heard on June 14.
During this, Elin was present in the court and she answered questions from the presiding officer. The presiding officer allowed the adoption.
Parihar said that after getting permission from the court, Kajri's birth certificate was prepared, in which her mother's name, Elin, was mentioned as a single parent. Elin will come to Jodhpur on July 22 to take Kajri. This will be the first case of intercontinental adoption from Jodhpur.
.
Close Story