BKS demands policy changes to end farmers' woes, threatens stir
The Bharatiya Kisan Sangh on Monday demanded changes in policies to ensure fair price and adequate risk cover for crops, and create conditions in which farmers will not go for loans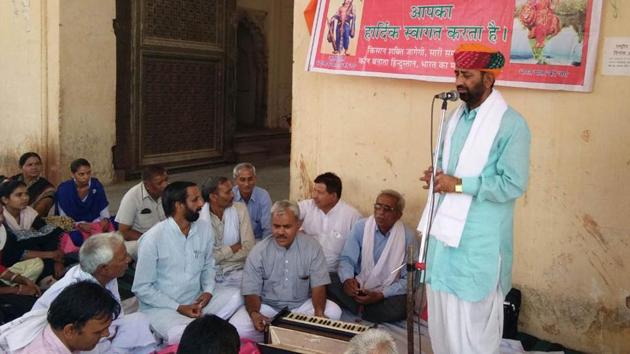 Updated on May 21, 2018 11:21 PM IST
The Bharatiya Kisan Sangh (BKS) demanded on Monday changes in policies to ensure fair price and adequate risk cover for crops, and create conditions in which farmers will not go for loans.
BKS held a symbolic demonstration and submitted memorandums to all district collectors, but threatened to launch a state-wide agitation if its demands are not met. A state-level convention will be held from June 15-17, where a strategy will be chalked out, BKS leaders said.
A five-member representation of BKS told the collectors that natural calamities and pests damaging crops leave farmers in distress, and absence of minimum support price and unavailability of crop insurance add to their sufferings.
"BKS has from time to time held protests as well as talks with the government to highlight the plight of farmers. The government improved the power policy, provided MSP to farmers and short-term cooperative loan waiver, but policy changes are required to redress farmers' grievances," said Kailash Gandoliya, state general secretary of the RSS-affiliated organisation.
He suggested that policy measures be introduced to provide profitable prices to farmers based on the production cost of the crops.
"The government should announce profitable prices for crops, vegetables and milk, and ensure their purchase throughout the year. Buying and selling crops below minimum support price should be made an offence," Gandoliya said.
He called for a 'kisan corpus fund' with the insurance premium amounts payable by the Centre, state and farmers, and demanded that crop producers be ensured the benefits of the Pradhan Mantri Fasal Bima Yojana.
"In Rajasthan mustard, gram, wheat, garlic and onion have been registered for buying through MSP. In the absence of purchase, the farmers should be given difference between market price and MSP," Gandoliya said.
"Farmers should be provided places in the mandis for selling organic products; farmers' platforms should be freed from encroachments by middle men," he said, seeking funds to farmers for maintenance of cows.
Last year, BKS had joined an agitation, spearheaded by other farmers' organisations, demanding waiver of agriculture loans and remunerative price to farm produce.
Close Story