Drones to survey Rajasthan villages for government's water scheme
Updated on Feb 28, 2018 09:47 PM IST
Drones will be used specially in hilly terrains in 10-12 districts.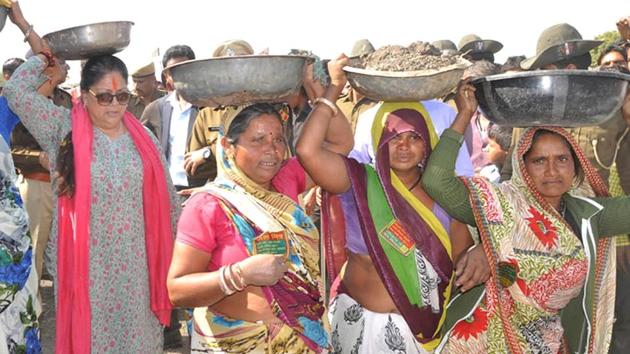 The Rajasthan government has decided to use drones to survey the villages for its Mukhya Mantri Jal Swavlamban Abhiyan (MJSA) scheme, the fourth phase of which would begin in July.
"We are targeting to prepare the detailed project report for Phase-IV along with the completion of Phase-III (which is expected to be over by June 30). For a quick and well-planned study, we will use drones, in addition to satellite data," Sriram Vedire, chairman, Rajasthan River Basin and Water Resources Planning Authority, said.
Vedire said that the government has identified the villages that will be surveyed for Phase-IV during April, May and June.
The third phase, which began this January, aims to cover 4,268 villages and construct 1,54,000 water conservation structures.
A senior official associated with the scheme said in the next phase, around 4,000 villages in non-desert areas would be covered. Drones will be used specially in hilly terrains in 10-12 districts such as Udaipur, Pratapgarh, Dungarpur, Baran, Kota, Sawai Madhopur, Chittorgarh and Jhalawar among others.
The official added that use of satellite data and drones would help in the planning stage. "Use of drones would be a novel step by the government. Earlier, Waypoint software was introduced which helps keep track the person conducting the survey, ensuring that 100% area is covered; thereafter sprinklers and drip irrigation was made compulsory," he said.
The MJSA was launched in January 2016 with an aim to make the villages in the desert state self-reliant on water issues. The project envisages to bring together the operations undertaken by multiple departments working for conservation and storage of water, both under and above the ground.
A government report to assess the impact of the scheme, after the first phase, had recorded "an average rise of 4.66 feet of groundwater level in 21 non-desert districts of Rajasthan".
Personalise your news feed. Follow trending topics