Jignesh Mevani demands SIT probe into April 2 violence
Mevani, who is in Rajasthan, also met Dalit families.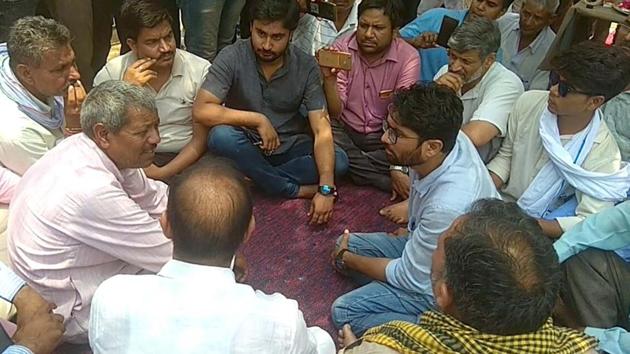 Updated on May 13, 2018 10:14 PM IST
Gujarat MLA and Dalit leader Jignesh Mevani demanded a detailed inquiry into the violence that occurred during and after the Bharat Bandh on April 2, called by Dalit organisations protesting the Supreme Court's ruling that, they say, dilutes a law protecting their rights.
"The matter should be probed by a special investigation team (SIT) consisting of at least one Dalit member from civil society," he said.
Mevani visited Khairthal on Sunday and met the family members of Pawan Kumar Jatav, who died on April 2 after he was allegedly hit by a police bullet. He also met women who were allegedly beaten up by police. The women said police forcefully entered Dalit households during the bandh and assaulted them and their children.
Alwar district administration imposed section 144 of CrPC in Khairthal town on Saturday to restrict Mevani's entry. Police were deployed to prevent him from meeting the families. Mevani was later allowed to interact with Dalit families.
Last month, Mevani was stopped at the Jaipur airport while he was trying to go to Nagaur.
Addressing a press conference in Alwar after meeting the families, he alleged the state government has been repeatedly trying to stop him from conducting rallies.
"On April 2, police unleashed atrocities on Dalit families. They dragged women and children on the streets, forcefully entered Dalit homes and mercilessly beat them up. The state government wants this truth to remain behind closed doors," Mevani alleged.
"I am well aware of the aristocratic and discriminating outlook of Vasundhara Raje and her government. Today, I met eight Dalit families in Khairthal and listening to the pain and suffering inflicted upon them by the police sent shivers down my spine."
Mevani claimed no case was registered against people of higher castes. "Alwar police and the government have filled up jails with Dalits who had no role in the violence, but just supported the Dalit movement," he said.
"Dalits are being targeted. The case of our Prime Minister Narendra Modi is not different. He uses the name of Ambedkar in his rallies for political benefit, but in his heart he is a Manuvadi."
Mevani demanded that the state government give compensation to the Dalits who had been victims of the violence and withdraw cases against them.
He said he plans to visit all districts of Rajasthan and challenged the government to stop him. "I will ensure that at least 100,000 Dalits take a vow to not support BJP."
RTI activist Nikhil Dey said all movements against Dalit atrocities would be run under the banner of Dalit Adiwasi Pratirodh Andolan. "The enforcement of section 144 in Khairthal last night is a violation of human rights and democratic values. If press and activists are not allowed to visit these places, how will the truth come out," he said.
Mevani also addressed a press conference at Neem Ka Thana, Sikar. He will address the media in Jaipur on Monday.
Close Story