Karni Sena splinter group questions PM's silence on Padmaavat
Updated on Jan 28, 2018 09:52 PM IST
BJP's role in the issue surrounding film Padmaavat will be the reason for its defeat in the bypolls, said Sukhdev Singh Gogamedhi, the head of Shri Rashtriya Rajput Karni Sena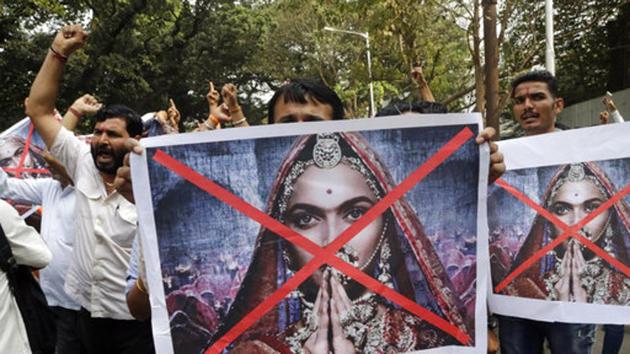 The role of Bharatiya Janata Party (BJP) in the issue surrounding film Padmaavat will be the reason for its defeat in the bypolls, said Sukhdev Singh Gogamedhi, head of the Shri Rashtriya Rajput Karni Sena (SRRKS) in a press conference in Jaipur on Sunday.
Gogamedhi was part of Lokendra Singh Kalvi's Shri Rajput Karni Sena, which is spearheading the protests against Sanjay Leela Bhansali's film, but later defected to form his own Karni Sena.
While levelling attack at the ruling BJP, the SRRKS leader also questioned the silence of Prime Minister Narendra Modi and Union ministers over the issue.
"I thank the government of four states for supporting us, but not one minister from the central government, including the prime minister, said anything on the issue. Even today (Sunday) I heard his Mann Ki Baat, but it did not have as much as a mention of our mother Padmini. What is the reason for his silence?" asked Gogamedhi.
Rajput outfits have been protesting, on occasions indulging in vandalism, over the film release alleging that it distorts the history regarding fourteenth century Chittor queen Padmini and hurts their sentiments. The film was not screened in Rajasthan and three other states, as the Multiplex Association of India is against screening it in these states.
Gogamedhi also said that the BJP employs a policy of duplicity. "We have been made fools. The state government should not have gone to the Supreme Court. The censor board comes under the central government," said the leader, suggesting that the central government could have put a ban on the film using the powers laid out under The Cinematograph Act.
He further said that the BJP's policy was the reason that Karni Sena declared opposition to the BJP in the Ajmer, Alwar and Mandalgarh bypolls that are slated for today. "We have asked people to vote for the one who can defeat BJP. Congress is the party that is in competition with BJP and that is why we are supporting the Congress," said Gogamedhi.
He also levelled allegations against Union minister for information and broadcasting Smriti Irani, questioning why was she made the minister despite having lost the elections. "There are people such as Shatrughan Sinha and Murli Manohar Joshi, who won but are sitting at home," he said.
The leader reiterated the demand for ban on the film, urging the government to bring an ordinance for the same. In addition, he sought the release of Karni Sena members, including its national secretary Suraj Pal Ammu, arrested for anti-Padmaavat violence.
"If Ammu is not released within four days, the organisation will stage a protest in Delhi," Gogamedhi warned.