Modi's Mann Ki Baat bunch of lies: Jairam
Updated on Mar 29, 2015 05:45 PM IST
Senior Congress leaders on Saturday accused Prime Minister Narendra Modi of spreading lies through his 'Mann ki Baat' radio programme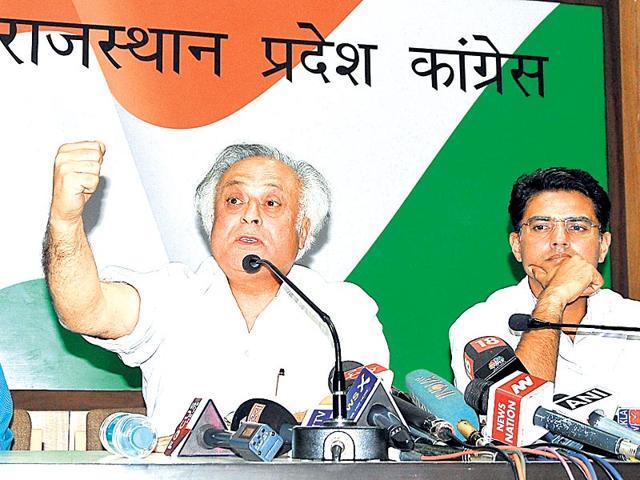 Senior Congress leaders on Saturday accused Prime Minister Narendra Modi of spreading lies through his 'Mann ki Baat' radio programme.
Describing the Prime Minister as anti-farmer, the Congress leaders criticised his latest radio chat on the Land Acquisition Act.
Speaking at the Pradesh Congress Committee (PCC) office, senior Congress leader Jairam Ramesh said, "What Modi said during his programme was a lie and not factual. The BJP government amended 13 legislations which were kept out and has increased compensation in them. In section 105 of the Act brought by the UPA government, it was stated that within one year bringing the amendments in the 13 legislations was compulsory…he has not done any favour to anybody."
He further said the Congress' objections to the ordinance are not politically motivated and its leaders didn't do so just because they are sitting in the opposition. "We are objecting five points in the ordinance. The Act brought by the UPA in 2013 had a clause where land can be acquired only when 80% of the farmers give permission to private companies to acquire their land, whereas 70% in case of PPP projects. However, that clause isn't there anymore," he said.
In 2013 Land Acquisition Act provisions, if a project doesn't start within five years of acquiring the land than the land has to be returned to the original owner. Moreover land acquired for industrial corridors can only be used for the said purpose but now they are bringing provision to acquire 1km more around it, Ramesh said.
"Farmers who had not taken compensation for land acquired in 1894 were to be given four times the compensation under 2013 rules but under this new ordinance, the farmer has been asked to take the compensation on old rates. Lastly, the provision of the social impact assessment before acquiring the land to has been removed," said Ramesh.
"We are not going to compromise on these five points our fight and our fight will continue outside Parliament. Not just the Congress, but all the opposition parties and even some NDA allies too are saying that the amendments are anti-farmers," Ramesh said. BJP leaders too are against the amendments…it's not BJP, but Modi is anti-farmer, he alleged.
PCC president Sachin Pilot said, "It's a payback time for the government. They are doing it to benefit those who funded their election campaign."
The Union government is spreading illusions that because of the land act about 2000 projects are pending, whereas the truth is that only 8% are pending because of the act and the rest are awaiting other clearances, Pilot added.
Pilot also said that there is no dearth of land in Rajasthan. RIICO in Rajasthan has 72,000 acres land, of which 34,000 acre is allotted for various projects. Of the allotted land, no project is running on 12,000 acre, he added.
Personalise your news feed. Follow trending topics