New state BJP chief asks party workers to gear up for assembly elections
Jun 30, 2018 10:09 PM IST
Newly appointed Rajasthan BJP president Madanlal Saini on Saturday exhorted the party workers to gear up for the forthcoming assembly elections that he said would be challenging
Newly appointed Rajasthan BJP president Madanlal Saini on Saturday exhorted the party workers to gear up for the forthcoming assembly elections that he said would be challenging. He was addressing a gathering of the party workers after assuming charge as president of the Rajasthan unit of BJP.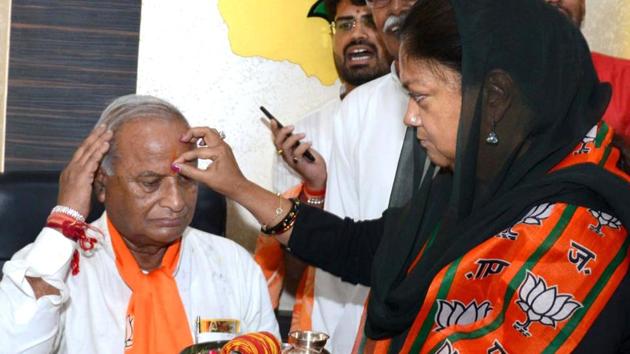 "I want to tell all the party workers that you should sleep for two hours less so that you can dedicate more time for the party work. We have to focus like Arjun who could only see the eye of the fish. I don't work for any individual or party, I work for the ideology and for the principles for which many generations have sacrificed," Saini said, followed by shouting of slogans by the party workers.
Saini said while Rajasthan has always given alternative governments of Congress and BJP, he was confident of meeting and exceeding the target of winning 180 seats in the assembly elections.
Talking about his humble roots, Saini said he was a farmer's son and even now worked on the farm. "If you leave out the past few years, I used to commute from Sikar to Jaipur on bus. I want the party to put up a mattress for me at the BJP office (in Jaipur) so that I could devote my full time to the party work," he said.
Praising the work done by chief minister Vasundhara Raje in Rajasthan, Saini said he had not imagined he would be nominated for Rajya Sabha and the appointment as state BJP president was equally surprising and sudden.
Raje, in her address, said that the party has always been giving tough assignments to Saini and she was sure that he would live up to expectations.
Saini's appointment as BJP president was a proof that the party can give an important post to a grassroots worker.
"It's a crucial time and elections are five months away. The assembly elections will be followed by parliamentary elections and I am sure our party workers will take us to victory in both these elections under the leadership of Madan ji," she said.
Raje also praised the work of former state BJP president Ashok Parnami and said that he tendered his resignation without any hesitation and has been working with full dedication ever since.
Senior party leaders and hundreds of party workers were present on the occasion. Saini was given a grand welcome on his arrival at the BJP office. He later left to pay his tributes to former vice president Bhairon Singh Shekhawat at his memorial in Jaipur.