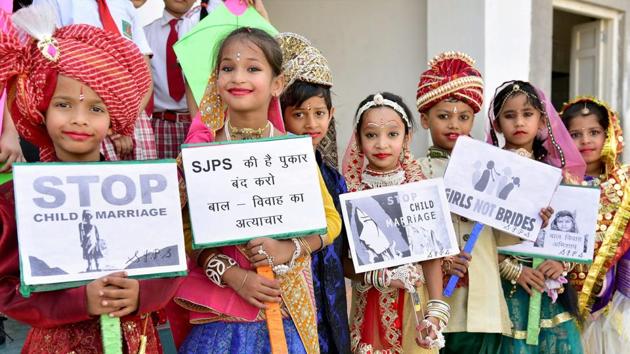 People revert to rituals, shun cards to avoid detection
Hindustan Times | By Mukesh Mathrani
UPDATED ON MAY 03, 2017 07:58 PM IST
The Barmer district authorities have ensured all the possible efforts to prevent child marriages but to thwart the efforts of the administration; residents have found newer ways continue the centuries-old practice.
Following the directives to print the date of birth of the bride and bridegroom on wedding invitation cards, residents have reverted to the offering of traditional "yellow rice" to invite people for weddings and other social functions.
The district administration has directed people to print the date of birth of bride and bridegroom on the marriage invitation card besides directing printing press owners to ask for birth certificates of both the bride and bridegroom before printing the invitation cards, an official said.
"Failing which strict action will be taken against them," said an official.
In 2013, the state woman and child welfare department issued directives to printing press owners to ask for birth certificate from families of brides grooms before printing wedding cards.
If printing press owners are found flouting the order, they will be arrested and imprisoned for six months along with a fine of ₹1,000, the then Bharatpur collector Gaurav Goyal said.
Thwarting the official efforts, people in the rural areas have reverted to inviting people by offering 'peela chawal' or yellow rice, said Sanjay Thakur, social activist and project coordinator at Care India.
"Distributing yellow rice is an old tradition in western Rajasthan, commonly associated with marriages and other family functions," he said.
"Wedding guests who accept the yellow rice have a social obligation to be present at the event, But since the past few years, people in rural areas started distributing invitation cards to invite the people on occasions like marriage and other social function."
"But ever since the district administration has directed people and printing press owners to ensure that date of birth of the couple to be married, people in the rural belt have reverted back to the decades-old practice of offering yellow rice."
Suresh Kumar, owner of a printing press said following the official directions, they started asking people to produce the birth certificate to a wedding invitation card printed but most people reluctant.
"We are losing a lot of business due to the directive," he said.
Close